Don't miss this Innovation Intersection event featuring CWRU's Anant Madabhushi, PhD.
About this event
Learn about the role of artificial intelligence in medicine from featured speaker, Anant Madabhushi, PhD.
Dr. Madabhushi is the Donnell Institute Professor of biomedical engineering at Case Western Reserve University (CWRU) in Cleveland and director of the university's Center for Computational Imaging and Personalized Diagnostics (CCIPD). He is also a Research Scientist at the Louis Stokes Cleveland Veterans Administration (VA) Medical Center and has affiliate appointments both at University Hospitals and Cleveland Clinic. He holds secondary appointments in the departments of Biomedical Engineering, Urology, Radiology, Pathology, Radiation Oncology, Electrical Engineering & Computer Science and Gen Med Sciences at CWRU.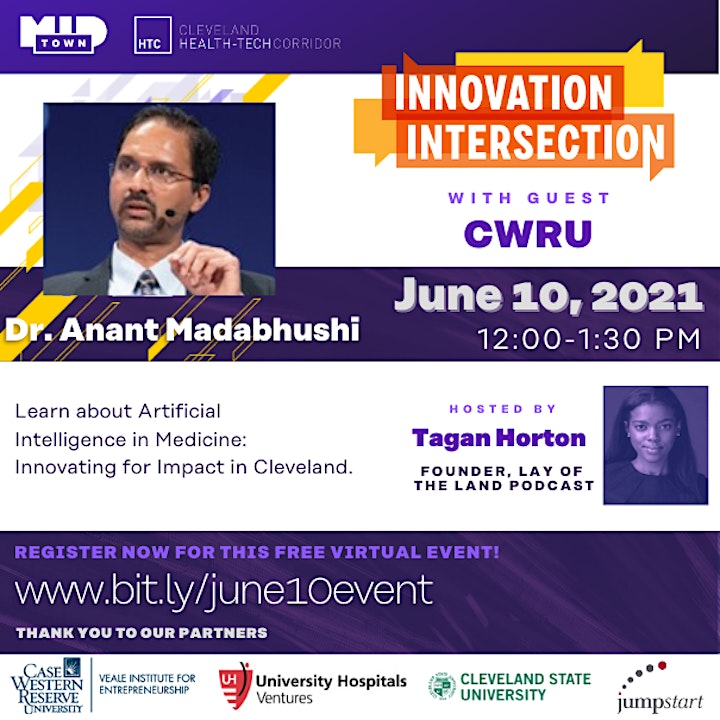 Organizer of Innovation Intersection with CWRU's Anant Madabhushi
MidTown is a non-profit 501(c) 3 economic and community development corporation whose mission is to leverage our diverse assets to create a dymanic neighborhood uniting Cleveland's downtown and University Circle. For more information, visit www.midtowncleveland.org.