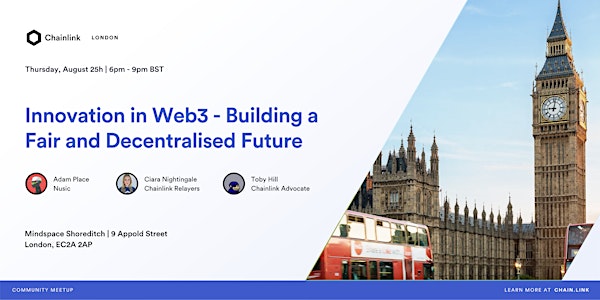 Innovation in web3 - Building a Fair and Decentralised Future
The UK is the home for two of the Chainlink Spring 2022 Hackathon winners who will join us for this meetup to tell us about their projects.
When and where
Location
Mindspace Shoreditch 9 Appold Street London EC2A 2AP United Kingdom
About this event
Hackathons are open events for a spectrum of developers to build, collaborate and create innovative projects over a short period of time. Chainlink, with great success, has hosted such events since 2018, with the Spring 2022 hackathon being the largest to date with over 8,500 signups, 340 project submissions and $540,000 in prizes. Hackathons allow for an initial development of great ideas that can transform into fully formed protocols with their own key roles across DeFi/crypto.
The UK is the home for two of the Chainlink Spring 2022 Hackathon winners who will join us for this meetup to tell us about their hackathon experience and the individual projects they are building.
Adam Place, Nusic
Ciara Nightingale, Chainlink Relayers
There will be live demonstrations from each project with a panel afterwards discussing the opportunities hackathons present, development in web3, and what crucial role Chainlink technologies have across the ecosystem.
Agenda:
6.00pm - 6.30pm – Greetings and introduction
6.30pm - 7.00pm – Live demo and presentations
7.00pm - 7.30pm – Panel Discussion and Q&A
7.30pm - 9.00pm – Networking + Happy hour
Nusic is a NFT bond project looking to make music a recognizable metaverse property and in turn aid musicians to better monetize their work and extract value from their material.
Chainlink Relayers is a meta-transaction service powered by a Chainlink decentralised oracle network. This lowers the barrier to entry for users of web3 services by allowing third parties to fund their transactions.
Chainlink is the industry standard for building, accessing, and selling oracle services needed to power hybrid smart contracts on any blockchain. Chainlink oracle networks provide smart contracts with a way to reliably connect to any external API and leverage secure off-chain computations for enabling feature-rich applications. Chainlink currently secures tens of billions of dollars across DeFi, insurance, gaming, and other major industries, and offers global enterprises and leading data providers a universal gateway to all blockchains.
Join us at SmartCon 2022 - the most important event of the year held September 28-29 in New York City. Taking place in the heart of lower Manhattan, SmartCon offers attendees a comprehensive view of the entire Web3 industry—present and future.
Hear from 100+ speakers across Web3, DeFi, NFT projects, blockchains, and layer 2s.
Attend two days of keynotes, panels, technical workshops, and satellite events.
Explore cutting-edge advancements in digital identity, governance, NFT technology, and more.
Get your ticket now: smartcon.chain.link/register