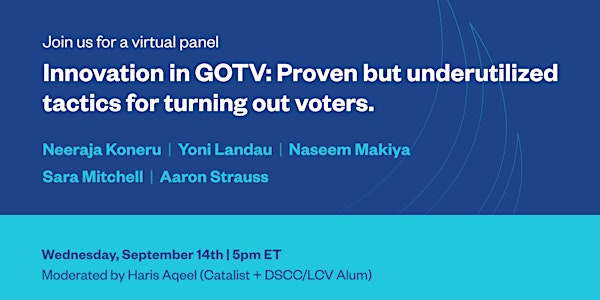 Innovation in GOTV: Proven but underutilized tactics for turning out voters
We're hosting a virtual conversation on proven but underutilized GOTV tactics – featuring an all-star panel of participants.
About this event
We only have nine short weeks to mobilize Democrats who voted in 2020 to show up again in 2022. Our panelists will draw upon their findings from past randomized control trials to discuss best practices regarding digital advertising creative and inventory, SMS, relational organizing, and more.
PANELISTS:
Neeraja Koneru, Rising Tide Interactive
Yoni Landau, Movement Labs
Naseem Makiya, Impactive
Sara Mitchell, Analyst Institute
Aaron Strauss, Open Labs
MODERATOR:
Haris Aqeel, Catalist + DSCC/LCV Alum