Description
The culture of collaboration has reinvented the workplace, classroom and even the bedroom in unanticipated ways. Pioneers in self-organizing companies and peer-to-peer communities discuss the trials and triumphs of couch-surfing, crowd-sourcing and co-location for fun, profit, and the common good. An evening presented by AIGA SF / Compostmodern, Preview Events and Gray Area Foundation for the Arts. Featuring:
Jeff Mendelsohn as MC and spokesperson for emerging social economies.
Casey Fenton on the origins of the worldwide Couchsurfing phenomenon.
Frank Schulenburg on bridging the parallel worlds of academia and Wikipedia.
Ann Badillo on designing book swarms, co-creation with groups, and the power of narrative.
Giovanna Mingarelli on using social games to improve our lives and the state of the world.
Amy Critchett on finding your art way, personal to public.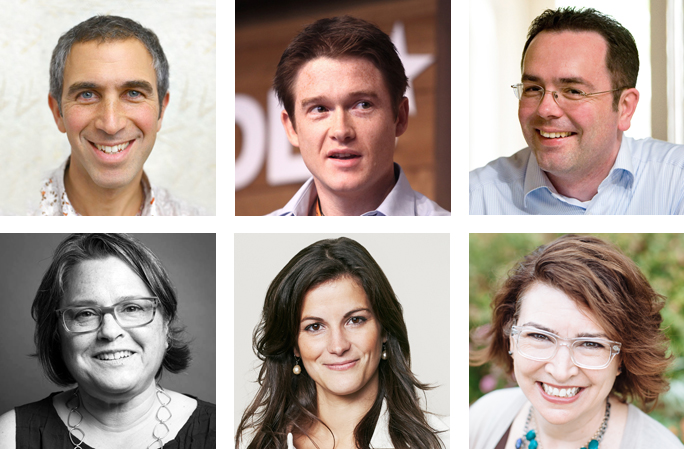 Social Innovation Week is co-presented by Compostmodern, AIGA SF, Preview Events, and Gray Area Foundation for the Arts, and is grateful for the support of Symmetry Labs, Letterform Archive, Lightswitch, Studio AND, Chronicle Books, Studio Hinrichs, frog design, CCA, Wiki Education, OpenIDEO, Art+Audience, MC2, the Impact-HUB network, and countless other organizations!

How to get to Gray Area
BART Station at 24th Street and Mission
Muni buses 14 and 49 to 22nd Street stop
Parking garage at 90 Bartlett Street, btwn 21st and 22nd


Refund Policy: We do not offer refunds. If the event is sold out we might be able to give your spot to someone on the waitlist.