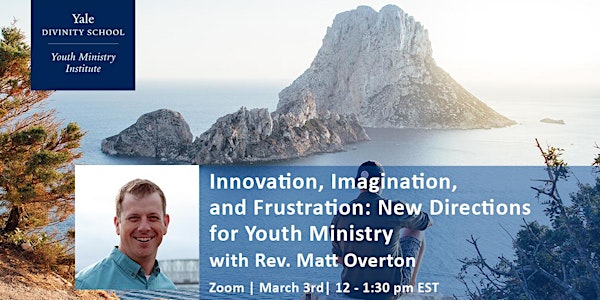 Innovation, Imagination, and Frustration: New Directions for Youth Ministry
Innovation, Imagination, and Frustration: New Directions for Youth Ministry with Rev. Matt Overton
About this event
Zoom | March 3 | 12 - 1:30 pm EST
Everyone knows that existing models for caring for teens (especially in ecclesial contexts) are pretty tired. The problem is that the church in North America often struggles to do excellent and compelling work. It also struggles to innovate.
This webinar will stimulate your imagination about how to best engage the teens/young adults in your community. We will look at an innovative model of ministry that has been developed in the Pacific Northwest and it's engagement in the world of social enterprise. We'll also explore how to finance new forms of ministry to help reach and enrich the lives of your youth.
The Rev. Matt Overton is a minister in the Pacific Northwest and the Executive Director of the Columbia Future Forge. The Forge is a non-profit church ministry providing teens and young adults with job skills, life skills, and mentorship. He is a graduate of Princeton Theological Seminary with over 20 years of youth ministry experience. Matt has attempted to write about innovation and social enterprise as they relate to working with teenagers in the 21st century. His innovative model for student ministry has been featured in several publications and he writes articles for various publications as well.