Description
Based on Luke Hohmann's book, Innovation Games®: Creating Breakthrough Products Through Collaborative Play, and our qualified instructors' years of real-world experience, this two-day interactive workshop teaches you how to create your own successful workshops.
Facilitation is one of the most important skills for leaders. Facilitation is the "process" skill to guide (large) groups of people towards a common goal. As such, facilitation is crucial in meetings, brainstorm sessions, planning sessions, and training.
In order to have good sessions/meetings, a skilled facilitator knows how to balance the energy to keep members involved and focused, to create real leadership opportunities in the organization. The more you know about how to shape and run a good learning and planning process, the more your organization will feel empowered and engaged about their own ideas and participation, stay involved, take on responsibility and ownership, and the better your meetings will be.
Today everybody is screaming about usability, user centric design, design thinking and a lot more of those fancy words to say the same thing: "We need to put people in the center of our business/product".
As such, Innovation Games® is a tool that will help you along with huge strides towards creating applications, products and/or services with a user-centered design. They support the decision making process, create more engaging meetings and help set product/service direction.
Innovation Games® are a fun, serious way to help you get answers to the following questions:
What do my customers or team really want?
How can I gain market insight without sending out boring inquiries?
How can I get customer engagement even before my product/service is available?
How can I go from "Oh Shit!" to "Oh Wow!" in 30 minutes?
Give us two days and we'll teach you how Innovation Games® uncover deeper and more accurate customer insights, create a faster decision making process and make use of the creativity of everyone involved.
What You'll Learn
The two-day certification workshop is built on the "learning by doing" model of education, relying on in-class practice and feedback.
The training focuses on 4 main components and an optional component:
Facilitation and observation
Giving and receiving feedback
Designing a meeting or workshop
Producing large scale events with multiple facilitators
Conteneo Weave Platform License
To ensure that you can continue to leverage online collaboration after the course, you will receive a one year, Professional License to the Conteneo Weave platform.
Style!
This class is fast-paced and team-oriented. After a brief overview of the material, we'll get right to work using collaborative frameworks to solve problems. Wear comfortable clothing, because you'll be moving!
Certification
Completion of the course gives you 120 Training Credits towards your Certified Collaboration Architect (CCA) status! Learn more here.

Materials
→ A copy of the book Innovation Games: Creating Breakthrough Products Through Collaborative Play
→ A copy of the course notes
→ A variety of handouts used to stimulate thinking and apply the materials
Cancellation Policy
A full refund will be issued if you cancel your registration at least 7 days before the event start date.
Replacing delegates: this can be done at no extra cost
Postponing a booking to another date: this is free providing it is requested at least 7 days before the event start date.
We reserve the right to postpone or cancel this course if there are insufficient registrations.
If this is the case, you will be notified 5 days before the course start date. In this case, you will be offered an alternative date or a full refund. We will not be responsible for any other costs incurred.
And if you're facing some other kind of hardship - contact us. We're really nice people and we'll try to find a resolution that works for everyone.
---
Your Instructor: Erik Talboom
Agile & Lean Coach, Trainer, Software Craftsman, Collaboration Architect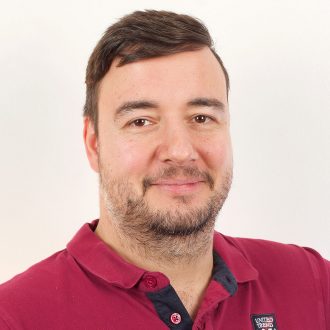 If one would have to describe Erik Talboom in one line, it would no doubt be "loves helping people". Helping others seems to be his drive for as long as he can recall: back in school, Erik used to tutor his co-students. A skill that naturally brought him to a teaching career later on. In his early professional years, Erik worked as a software development teacher at the CVO Antwerp and Karel De Grote Hogeschool Antwerp, spending his spare time working as a freelance developer.
Soon, Erik chose the path of a fulltime developer, but teaching and helping others stuck with him. Therefore, he gradually focused on a different style of development: helping others develop their skills.
Throughout his life and work, Erik's main characteristic is emotion: it guides his decisions, inspires and motivates him and proved to be a great strength on many occasions.
Using this emotional, helpful approach, Erik's mission is to help teams and organizations by improving their way of collaborating, helping them getting things done and, basically, reaching their full potential by training sessions, meeting facilitation, individual coaching of team members and opposing different and fresh perspectives.
Being a passionate gamer on top of all this, Erik believes in enhancing work through play: improving your way of collaborating and working while having fun.
"You shouldn't have fun at work: your work should be fun", is what he stands for. His experience in board and computer games, role-play and as a game master serve their purpose in his coaching techniques. Assuming the role of game master in a work environment, Erik will facilitate meetings and brain storming, stimulate collaboration and co-learning and help channel creative energy.
Every team member has his or her preferred domain of specialisation, and while it is difficult to put Erik in one 'box' as his profile and interests are so vast, one may say he is more focused on the individual level of coaching.