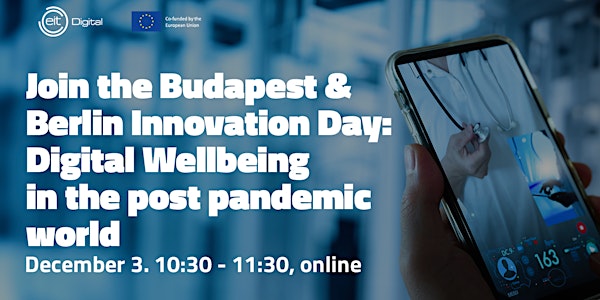 Innovation Day: Digital Wellbeing in the post-pandemic world
Innovation Day organized by EIT Digital's Berlin & Budapest Node, covering in total 10 countries. www.eitdigital.eu
About this event
Innovation Day 2021 brings together EIT Digital Budapest and Berlin Nodes' ecosystems to present the current trends and opportunities in digital wellbeing in the post-pandemic world.
EIT Digital Budapest - Berlin nodes proudly join their forces and have the pleasure to invite you to the online event on the 3rd December 2021 at 10:30-11:30 CET.
AGENDA
10:30 - Welcome & Opening
EIT Digital in Brief
EIT Digital Hungary at glance
EIT Digital Germany at glance
By EIT Digital Budapest Node Director (acting) Tuan Trinh, and EIT Digital Head of Staff and Operations, Federico Menna.
10:45 - Panel 1; 'The Makers'
Panelists:
CheckPoint Cardio (BUL) - Boris Dimitrov, CEO
Entremo (HU) - Péter Lakatos, Co-Founder
JIC (CZ) - Jindřich Weiss, Chief Services Officer
Moderated by Tuan Trinh - EIT Digital
11:05 - Panel 2; Looking Forward (Visionary).
Panelists:
Ljubljana University (SLO) - Prof. Miha Škerlavaj, Vice Dean
Meddictive (HU) - Tamás Czeglédi, CEO
Moderated by Federico Menna - EIT Digital
(Additional panelists possible)
11:25 - Closing Remarks – Tuan Trinh and Federico Menna / EIT Digital
11:30 - End of the event
EIT Digital is a leading European digital innovation and entrepreneurial education organisation driving Europe's digital transformation by delivering breakthrough digital innovations and startups to the market.
EIT Digital Innovation Days bring together EIT Digital communities to present and discuss the current trends and opportunities in the digital innovation.