Innovation Café: Networking & Celebration
Description
"Open Networking & Celebrating the Completion of the 2017 Innovations Program"
Meet the course instructors, advisors, and business mentors responsible for managing the Penn State Innovations Training Program, a unique course offered annually at only nine institutions nationwide, presented by the Penn State Clinical & Translational Science Institute and the Center for Medical Innovation.
Please join us for this open networking event as we celebrate the members of the nine teams who have successfully completed the intense 6-week program, and discuss their personal experiences navigating the course and advancing their medical technologies forward.
In addition to the celebration, this event serves as an open platform for engaging local industry professionals, start-ups, investors, faculty, and talented students who are committed to expanding the entrepreneurial ecosystem in central Pennsylvania. All are welcome and refreshments will be served!
---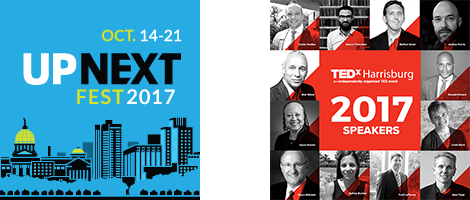 In partnership with UpNext Fest 2017 and TEDx Harrisburg
Celebrating Central PA's Tech, Design and the Arts!
Learn More: www.upnextfest.com | www.tedxharrisburg.com
---
About the Program:
The Innovations Program is an I-Corps@NCATS curriculum that offers a methodology to help teams of participating researchers discover the commercial potential of their technology. During the course, participants learn how to explore product-market fit, talk to customers, and gain insight from experienced leaders.
This program is not focused on how to write a research paper, business plan or NIH grant, rather the entire team will be engaged by getting out of the lab/building and discovering the value of their technology.
The Innovations Program captures the foundation of I-Corps Program so teams may be better equipped to apply to the national I-Corps Programs (NSF, NIH, etc). Learn more: http://sites.psu.edu/innovations/
---
About the Innovation Café:
The Center for Medical Innovation at Penn State College of Medicine is fostering an entrepreneurial ecosystem by breaking down the barriers to access capital, expertise and resources.
The Innovation Café is a platform designed to engage faculty, staff, students and regional stakeholders in an ongoing conversation about fueling central Pennsylvania's "entrepreneurial ecosystem"—a network of people and organizations with the tools and expertise to help bring research ideas out of the places they originate and into the community where they can benefit everyone.
The goal is to engage the stakeholder community in an ongoing dialogue about fueling the region's entrepreneurial activity while ultimately expanding the ecosystem into a showcase for the nation.