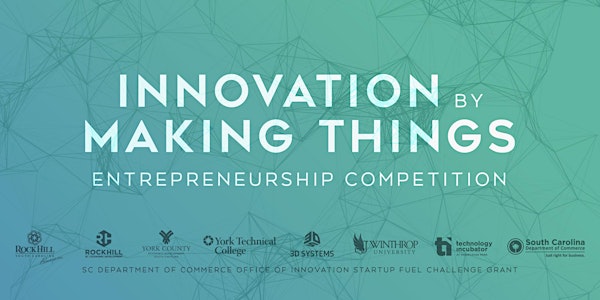 Innovation by Making Things (Entrepreneurship Competition)
By 3DSystems, Winthrop University, York Tech, City of Rock Hill, RHEDC, York County and the Technology Incubator @ Knowledge Park
Date and time
January 16, 2019 · 12pm - February 12, 2019 · 7pm EST
Location
Technology Incubator @ Knowledge Park 157 E Main St #501 Rock Hill, SC 29730
Description
Do you have an idea for a new entrepreneurial endeavor that uses plastic or metal additive manufacturing (3D Printing)? Or perhaps your existing business could benefit from custom jigs/fixtures to increase the productivity of your team? If so the Innovation by Making Things entrepreneurial competition offers you the chance to turn these ideas into a reality. The competition will hold 2x 5 hour work sessions at the Technology Incubator @ Knowledge Park (lunch provided) and a final 2 hour wrap up session at 3DSystems headquarters where judging will take place.
Event Dates
Teams must be willing to commit to all three event dates.
1/16/19 (Wed) - 12PM-5PM @ TI * Lunch provided
1/23/19 (Wed) - 12PM-5PM @TI * Lunch provided
2/12/19 (Tues) - 5PM-7PM @3DS HQ * Light hors d'oeuvres
Teams
Competitors will form teams of 1-4 people. Ideally teams will have diverse backgrounds that include different skill sets. One critical need is someone on your team who knows CAD or is willing to learn CAD.
Supplied Resources
All teams will have their idea turned into reality using additive manufacturing machines located at Winthrop University, the York Tech Innovation Lab, and the 3DSystems On Demand printing facility. We will strive to allow all teams to produce their innovation at full scale, however, complexity of the print, materials utilized, scale, and so on may limit our ability to provide the team with a full scale print.
Teams will be provided with snacks and beverages throughout the event to keep the innovation going.
Teams should bring laptops with software required (including CAD) to the event location. Power, internet, and space to work will be provided.
Contest Winners
Teams will be judged on several factors including:
Effort in moving concept along the TRL/MRL development path.
Line of sight to maneuverability within the state of SC.
Likelihood of commercial success.
In addition to being named contest winners, the winning team will receive a CASH PRIZE ($1,500 for 1st, $1,000 for 2nd, and $500 for 3rd), free business mentoring from the Technology Incubator at Knowledge Park ($2,400 value), and free consultation on patenting their innovation. All teams regardless of winning will be able to keep their innovation created during the event.
Intellectual Property
Teams maintain the rights to their own intellectual property, however, teams will be asked to sign a waiver allowing all aspects of their participation in the event to be photographed and used in other promotional materials. Similarly, a waiver indicating each of the organizations involved in hosting the competition are permitted royalty free use of the innovation. For example, reproduction of it to perform outreach and other activities.
Additional Questions
Should you have additional questions please email besmera@winthrop.edu and we will update this page to clarify.