Description
Are you an absolute coffee geek seeking the latest innovative technology in your pursue of the perfect cup?
Are you a coffee lover ready to take your coffee to the next level at home but need to make sense of all the tech buzz flying around first? You may be a Coffee Pro looking for new and innovative gear for your Cafe or roastery and curious what's out there..
This event was created for you!
This rare Expert Talk brings you a fun evening of coffee innovation, packed with expert knowledge, behind the scene stories never shared before, coffee technologies demystified, an introduction to several exciting and innovative products and a CHANCE TO WIN NICHE ZERO grinder!
Di Bartoli Coffee is honored to host and be supported by Espresso Company Australia (ECA), the most progressive coffee equipment importer to Australia. ECA brings us premium Italian brands like Rocket and for years have been on a tight watch for new technologies and features to meet the ever growing demands of Australian consumers.
Technology is involved in every step of the way in coffee. With some impressive improvements in brewing technology in the past few years, we see exciting new features that support both home brewers and professionals alike to control the variables of espresso better and contribute to higher consistency of brew.
Here is what you can expect to learn in our talk:
• Come on board future in coffee with Mr Charles Stephen, ECA's CEO and the force behind the relentless drive of bringing the best and the smartest gear to the Australian market for over 15 years. Charles will be sharing his Prosumer equipment vision, will discuss the importance of innovation in coffee and will let you in on behind the scene stories of keeping step with the times.
• What are the common coffee machines technologies in the market and what technical innovation do we see lately that supports the end user in their quest? PID, Pressure Profiling, Saturated Group, are just some of the trends presented by Ofra Ronen, Di Bartoli Coffee's MD.

• Control or flexibility with brewing variables? Introducing the Rocket R9 ONE where thermal stability, pressure profiling and saturated group head come together all in one.
• That 3 star hotel just went to a 5 star! The Porta Via is the FIRST portable Rocket Espresso machine in the world. Travel just got a whole lot more interesting! How is that even possible?
• Versatility and Zero retention highlighted - presenting the Niche Zero Grinder - one lucky attendee will take home one of these incredible grinders worth $1,299!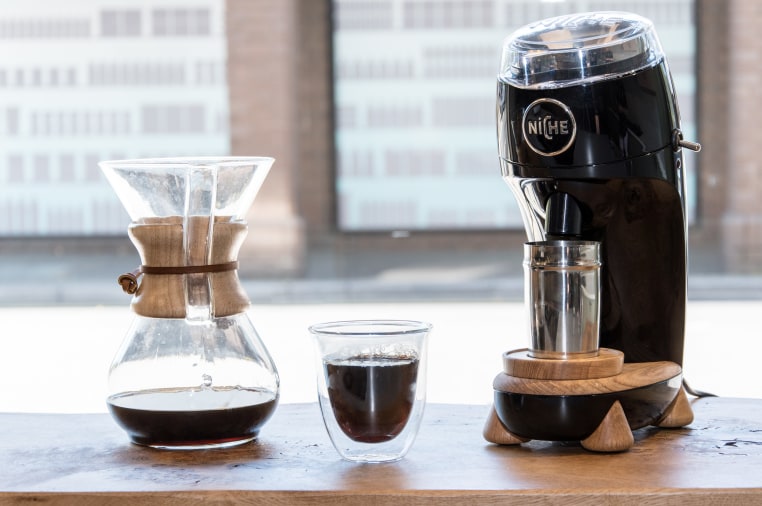 • The Hiroia Jimmy Scale is the most advanced scale, designed for Specialty coffee and monitored remotely through an app, measuring your flow rate in real time and guiding you to your perfect espresso and pour over.

---
Yes, coffee making can be an art but the science of it is undeniable. It is in this marriage between technology and artisanship where we, coffee lovers thrive.
Join up to find out the latest and best the market can offer for that sublime cup.
WE WILL RAFFLE OUT A NICHE ZERO GRINDER ON THE NIGHT AMONG ALL ATTENDEES, SO DON'T MISS OUT ON THE CHANCE TAKING THIS AMAZING COFFEE BUDDY HOME!
Wait there's more! ENJOY a show bag with fresh beans samples, ECA gifts and Special Show Discount on all ware and featured products. Light refreshments and soft drinks will be provided.
---
This event is the forth in 'Bringing Coffee and Community Together' events series supported by the City of Sydney's Night Diversification Program. Di Bartoli was proudly selected as one of the top 3 local businesses to successfully diversified their events to take place at night time.
NOTE: Limited Tickets available at the door at full price