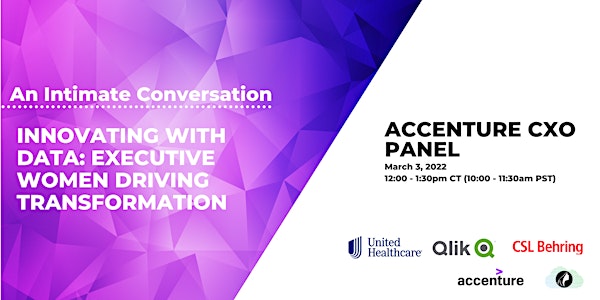 Innovating w/ Data: Conversation w/ Executive Women Driving Transformation
Accenture's CXO Power Panel will be an intimate conversation with the key executive women leading transformation through data.
About this event
We are excited to bring you the third installment of our CXO Power Panel on the topic of transforming businesses through the scaled use of Data. This event will be an intimate conversation with three executive women leading transformation through data at CSL Behring, Qlik and United Health Group moderated by CNBC's Deirdre Bosa.
These leaders will share how their organizations are disrupting, competing and driving innovation through use of Data/Artificial Intelligence (AI) – highlighting the benefits and challenges of a cloud transformation journey. They will share their personal and professional experiences as women leading these efforts, and discuss diversity within their programs - drawing additional excitement toward female leadership in technology. You will surely leave the event with nuggets of advice to bring into your own personal and professional lives.
Following the Power Panel, Accenture would like to offer a unique opportunity to participants: open discussion breakout forums with key Accenture Technology leaders. The intent of the sessions will be to allow participants a better opportunity to understand what Accenture is doing in the Cloud space, and how they could get involved. Breakouts will include specialized discussions with leaders from our Cloud Transformation practices. Please come join these great women to hear about what opportunities may await you with Accenture!
Event Agenda
Opening Remarks
Power Panel: Innovating with Data: A Conversation With Executive Women Driving Transformation
Audience Q&A
Meet & Greet with Accenture Leaders & Recruiters in Breakout Sessions
Breakout Topics
Equity, Equality and Diversity
The Rise of Computer Vision
Careers at Accenture
Why Data and AI?
Why I Love Data!
Details to join the session will be shared prior to the event via email
By registering for this event, you are granting permission to be contacted with opportunities by Accenture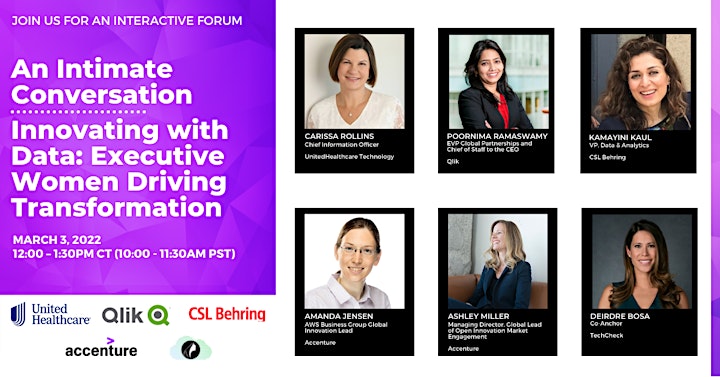 Meet the Speakers
Poornima Ramaswamy, EVP Global Partnerships and Chief of Staff to the CEO
Poornima Ramaswamy is a versatile business leader with a history of working across markets and segments to maximize customer, and overall business, value. As Qlik's Executive Vice President of Global Partnerships and Chief of Staff to the CEO, Poornima heads up a multi-disciplinary team that designs and executes transformational strategies. Leveraging the strengths of the product portfolio and partner ecosystem, Poornima has a demonstrated talent for creating solutions to big challenges and empowering the overall ecosystem, driving significant contributions to revenue. As Chief of Staff to the CEO, Poornima collaborates across the executive team to govern and execute corporate priorities and strategic initiatives.
Prior to joining Qlik, Poornima led the North American AI & Analytics practice at Cognizant. During her tenure, she was the driving force in the creation of the Cognizant Chief Data & AI Officer Advisory Council, a community of analytics executives focused on leveraging data-driven approaches and cutting-edge systems to improve business outcomes. With more than 20 years of experience across a variety of industries, Poornima started her career at Tata Infotech.
An advocate for diversity, equity, and inclusion, and passionate about sustainability and educational causes, Poornima holds a BS in Mathematics and an MBA from ICFAI Business School, India.
Carissa Rollins, UHC Technology
Carissa Rollins is the chief information officer for UnitedHealthcare Technology. She is responsible for the strategy, roadmap, and technology investments in support of the commercial, Medicare and Retirement, and government programs technology business portfolios at UnitedHealthcare. Prior to UHC, Carissa held the positions of CIO and CHRO at Gander Mountain where she oversaw all aspects of the company's technology and information systems, omni-channel initiatives, cyber-security, and enterprise data and business analytics in addition to all aspects of human resource management. Carissa has also held positions at Kohl's Corporation, Manpower Global and Miller-Coors. Carissa holds an MBA and Bachelor of Science - Management Information Systems degrees from Marquette University. She resides in Edina with her husband and two boys.
Kamayini Kaul - VP, Data & Analytics, CSL Behring
Innovative, purpose-driven, mission-focused leader with extensive global experience across IT, Technology, Engineering and Operations. Recognized for breadth of applied technology, digital
strategy and risk management to drive process and operational improvements fostering strong partnerships with stakeholders. Proven record influencing data, analytics & product strategy growing diverse and inclusive teams. Core Skills: Digital, Data & Technology Strategy, Business Partnering, Corporate Transformation, Enterprise Data Management, Advanced Data Science, IT Portfolio Governance, Healthcare drug & device product development. What defines me beyond work- A one-world citizen, I speak five languages and always put values ahead of opportunity. I dream of being a mountaineer in an alternate universe and love being challenged on a new dimension everyday.
Meet the Breakout Leaders
Jennifer Wayland, Senior Manager, Data and AI, Accenture
Breakout Topic: Equity, Equality and Diversity
A data driven resource and problem solver creating business value, identifying new opportunities, and generating operational efficiencies. Instinctive ability to integrate disparate data to formulate strategies and analytics solutions. Forward-thinker at the forefront of organizational change, empowering high-performance teams and fostering cross-functional business partnerships.
Amanda Jensen, Accenture AWS Business Group Global Innovation Lead
Breakout Topic: The Rise of Computer Vision
As the Accenture AWS Business Group Global Innovation Lead, I help Accenture clients not just understand the power of AWS but bring our solutions and offerings to life. I've spent my career here at Accenture leading teams and successfully delivering projects. I was fortunate to get into cloud early on and was one of the early members of the Accenture AWS Business Group. Outside of work I can almost always be found with a book close by. I love to travel and see the world. I am particularly fond of getting out of the major cities and really experiencing new places.
Fehintola Laniyan, Senior Manager, Accenture Strategy & Consulting Group
Breakout Topic: Why Data & AI?
As a Senior Manager in the Accenture Strategy & Consulting group, aligned to the Applied Intelligence practice, I lead teams that deliver Analytics solutions to clients to support their decision making in Strategy, Planning and Operations. With over 23 years of Data Engineering and Analytics Architecture/Platforms experience with a focus on Resources and Products industry, I help clients manage data as an enterprise asset and support them in their data led transformation journeys.
I also serve as the Consulting Development Program Liaison for the South Region for Applied Intelligence and as the Communication Lead for the Data Engineering & Architecture Community of Practice.
Outside of work, I enjoy international travel with my husband, two sons and daughter and I am also actively involved in the Advancement and Finance Committees at the St John's School, Houston.
Usha Reddy, Software Engineer, Accenture
Breakout Topic: Why I Love Data!
Usha has 20 years of experience in handling Data solutions and is an accomplished delivery lead implementing Data Modernization, Digital Transformation, Cloud Data Migration, Data Engineering initiatives for Insurance, Financial, Healthcare, and high data volume business sectors. Proven Leadership in implementation strategies for Data Lakes, Data Computing Appliances, Data Analytics/BI . Armed with an MBA from Penn State, resident of New Jersey, loves hiking, gardening and spending time in nature.
Megan Knowles, Human Resources Associate Director
Breakout Topic: Careers at Accenture
Megan Knowles is a Human Resources Associate Director with over two decades of successful experience at Accenture. As a trusted advisor and strategic HR partner, she partners with the business in identifying and nurturing top talent, setting and implementing global strategies, driving operational goals as well as optimizing the employee experience. A strong believer in transparency, simplification and continuous learning, Megan regularly develops learning and awareness opportunities for her team and the business to further their understanding or perspectives. While not at work, Megan enjoys getting outdoors with both family and friends whether it be hiking mountain trails or enjoying peaceful days on the lake.
Meet the Recruiters
Tiffany Brown (Sr Technical Recruiter | Cloud-First | Cloud Native | Infrastructure Engineering, Accenture) is a Texas native, UNLV grad with a passion to help people find their dream career. She has 14 years' experience focused in the Technology recruiting industry with a current focus in Infrastructure engineering, cloud architecture and java development. She is a Mother to 2 daughters, dog lover, and soccer mom!
Trupti Udeshi (Recruitment Specialist, Accenture) is a Recruitment specialist at Accenture Flex based in Los Angeles, California. With 10 years plus of recruitment experience across industries, she has been a successful advisor and collaborator to clients, managing their objectives and finding right candidates across levels. She is passionate about recruitment and loves what she does.
Amberly Martin (Senior Inclusion and Diversity Recruiter, Accenture) is a Senior Inclusion and Diversity recruiter at Accenture. She has over 8 years' experience working within I&D recruiting, with a focus on Women's Initiatives and Military Spouses. She has a passion for helping experienced professionals find the right role to further their career. She is a graduate of the University of Colorado with a Master's in Public Administration. She lives in Denver with her spouse and rescue dog.