Innovating Tradition: Two Urban Pastors on the Future of Church

Tuesday, November 5, 2013 from 7:00 PM to 9:00 PM (EST)
Event Details
What:  A conversation with Nadia Bolz-Weber & Amy Buter, moderated by Amy Sullivan
When:  Tuesday, November 5, 7-9pm
Where:  Calvary Baptist Church 755 8th Street NW Washington, DC 20001
Calvary is located at the Chinatown-Gallery Place metro stop on the Red, Yellow, and Green lines, and 2 blocks from the Metro Center stop on the Orange and Blue lines.  
Parking:  There are two public garages located on the same block of 8th St as Calvary, as well as other garages within walking distance.  Please note that the Capitals have a home game that night and parking will be limited.
An ASL interpreter will be provided and seats reserved in front for those who need one.
Doors open at 5:45pm.  Music will be provided from 5:45-6:20 by Curtis Lucas and 6:25-7:00 by Ridgeway Addison
The event is free and open to the public.
Topic
How do congregations attract and engage people for whom church has been irrelevant? Is it even possible to build authentic Christian community while reaching people who are queasy about organized religion? What does it mean to be an urban congregation at a time when institutional churches are in decline? And how much of re-imagining church is determined by specific context and what can be a model for other communities?
These questions and others like them will frame a conversation between Revs. Nadia Bolz-Weber and Amy Butler, moderated by National Journal's Amy Sullivan, as they explore what it is to lead urban, sacramental, innovative churches.
The two energetic female pastors have taken on very different challenges–Bolz-Weber founded House for All Sinners and Saints, a young, unconventional Lutheran church-plant in Denver, while Butler is ten years into her tenure as senior pastor of Calvary Baptist, a historic 151-year-old congregation in downtown Washington, DC. Yet the two urban congregations share a rigorous commitment to living out Gospel community and an enthusiasm for re-creating church from within rich traditions. At a time when countless articles are being written about the decline of the institutional church and the rise of "nones" and "spiritual but not religious," these churches have bucked the trends by growing into vibrant centers of worship and Christian witness.
Bios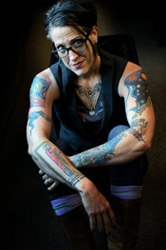 Nadia Bolz-Weber is ordained in the ELCA and started House for All Sinners and Saints while she was still in seminary. She has a B.A. in Religious Studies from CU Boulder and an M.Div. from Iliff School of Theology. You can find her writings at Jim Wallis' God's Politics, Patheos, and her own website, Sarcastic Lutheran. In 2008, she released her first book, Salvation on the Small Screen? 24 Hours of Christian Television (Seabury Press). It's a theological and social commentary based on her experience of watching 24 consecutive hours of the Trinity Broadcasting Network. Her theological memoir, Pastrix: The Cranky, Beautiful Faith of a Sinner & Saint (Jericho Books) was published in September 2013.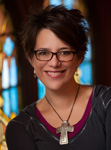 Amy Butler has served as Senior Pastor at Calvary Baptist Church since 2003. She holds degrees from Baylor University (BA '91, MA '96); The International Baptist Theological Seminary (BDiv '95); and Wesley Theological Seminary (DMin '09). Before coming to Calvary, Butler worked with the homeless community in New Orleans and served as Associate Pastor at St. Charles Avenue Baptist Church in New Orleans. She often comments on faith and life in general on her blog, Talk With the Preacher. You can also read her columns every two weeks on the Associated Baptist Press.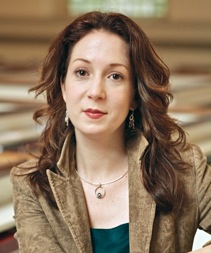 Amy Sullivan is a correspondent at National Journal and director of the Next Economy, a joint project of The Atlantic and National Journal. Before joining National Journal, she was a writer and senior editor at TIME Magazine, where she covered politics and religion. She served as the magazine's nation editor for the 2008 presidential primaries, directing political coverage and the polling operation. Previously, Sullivan was an editor at The Washington Monthly and editorial director of the Pew Forum on Religion and Public Life. Sullivan's first book, The Party Faithful: How and Why Democrats are Closing the God Gap, was published by Scribner in 2008.
When & Where

Calvary Baptist Church
755 8th Street Northwest
Washington, D.C., DC 20001


Tuesday, November 5, 2013 from 7:00 PM to 9:00 PM (EST)
Add to my calendar