Location
City of Bowie
15901 Fred Robinson Way
Bowie, MD 20716
Bowie BIC 10 Year Celebration - Featuring Innovation in Sports, Arts, and Entertainment.
About this event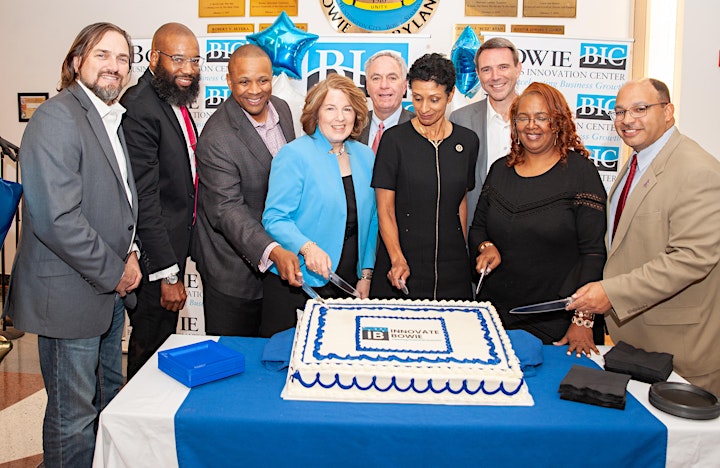 Celebrating Bowie's Entrepreneur Ecosystem.
Innovate Bowie! was created to celebrate the growing and dynamic City of Bowie entrepreneurial ecosystem that is catalyzed by the Bowie BIC. Each year we want to bring the spotlight of state and national entrepreneurial ecosystem partners to the City of Bowie both to inspire the next generation of entrepreneurs but also to take a moment to highlight the success of existing entrepreneurs who have grown great businesses in the community.
This year we will be featuring innovation and accomplishments in the Sports, Arts, and Entertainment industry which has undergone a huge transformation. We will highlight the recent acquisition of the Bowie Baysox by Attain Sports and Entertainment (affiliated with Attain Capital Partners), Liberty Sports Park which will be the mid-Atlantic's premier sports vacation destination for adult and youth tournaments, Next Level Sports & Entertainment (NLSE) exploration of locating their headquarters, which will include the design of a 160,000 square foot world-class indoor sports facility and innovation hub in the City of Bowie, and Bowie State University's Innovation in Sports, Arts, and Entertainment.
Features of this Year's Event
4 pm - Angel Investor workshop for those interested in investing in tech startups
5 pm - Community Building - Cohado Concepts/Game
5 pm - Entrepreneur Pitch Event - Startup Maryland STRT1UP Roadshow
6 pm - InnovateBOWIE! 2022 Main Program
Program Run of Show and Key Information - Here
Note: Please register/obtain tickets for workshops and the main program separately.