More Socially Inclusive, Accessible and Sustainable Tourism = More Customers. Why now is the time to reinvent your offering & target growth.
About this event
his event is for you, if you are:
A company active in the tourism business
A hospitality, travel or tourism association
An industry representative
A researcher in the field of tourism, sustainability, accessibility, diversity or social inclusivity
Have a general or business interest associated with tourism.
With the help of real-life examples of how business that embraced accessibility, social inclusivity and sustainability can thrive, we illustrate opportunities that exist, despite the current challenges, to employ innovation and technology to develop the service offering in an enhanced way, which attracts more customers and builds a wider base for revenue.
Introduction by Helena Deane, CAST EU project
Accessibility increases Revenue: challenges and opportunities - Case Study Mobility Mojo - Noelle Daly, CEO & Co-founder Mobility Mojo
Independent Travel and Visitor Experiences: what industry can learn - Talita Holzer, CEO & Co-founder WaytoB
A greener business is more competitive: from small wins to big results - Raquel Noboa, CEO & Co-founder, Fifty Shades Greener
Social inclusivity in tourism: untapped people potential - Ultan Faherty, Inside-T
During the panel discussion, we will ask some thought-provoking questions and challenge the status-quo, examining in more detail who can benefit and how.
Finally we open up the discussion for the audience too, with opportunity to ask the panel some questions around this topic.
THE MEETING LINK HAS BEEN SENT OUT BY EMAIL - PLEASE CHECK YOUR SPAM FOLDER.
This Event is part of Mayo Ideas Week, taking place from 21st-26th September 2020.
Meet the panel: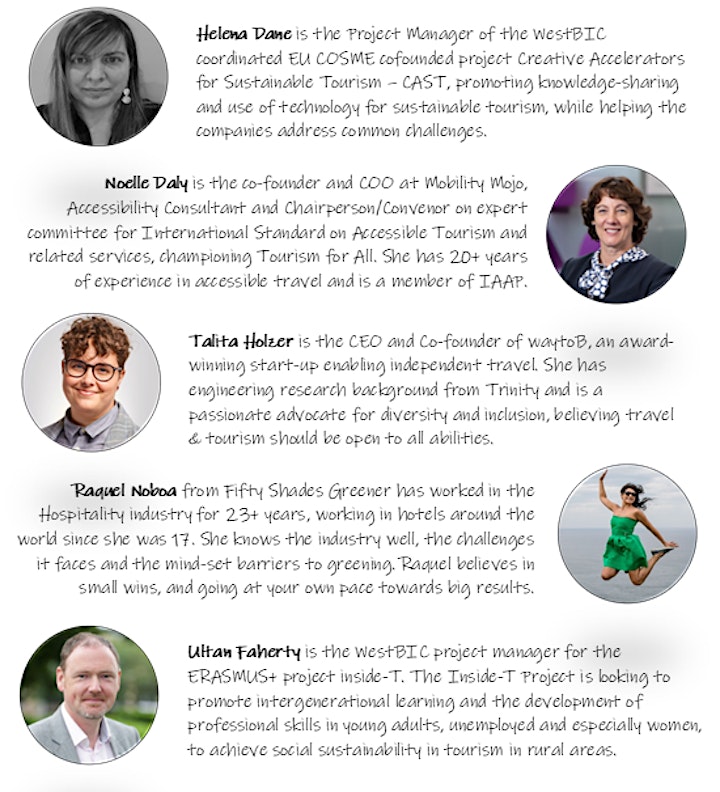 Organizer of Innovate or Die: Opportunity in Crisis for Tourism Businesses
WestBIC are supporting & scaling Start-ups, Enterprising People and the Concepts they Develop that require Enterprising Supports. We provide tailored, high level supports to entrepreneurs to assist them to convert their innovative ideas into a commercial reality and become Investor Ready. In the process we support the entrepreneur, to start and scale up their enterprise. This journey involves navigating the entrepreneur and the concept through the stages of market and technical validation, gaining international market traction, building out the team, and ultimately working up their proposal up to secure investment. We coordinate and partner in a number of EU-funded projects that extend our ability to provide business support around specific challenges.