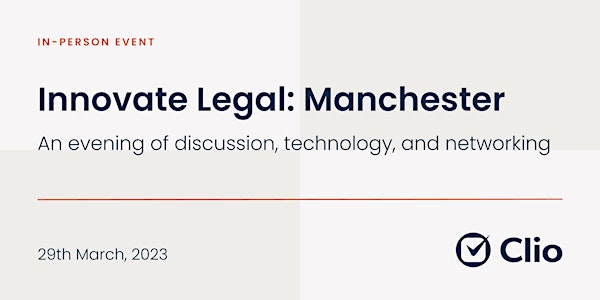 Innovate Legal Manchester - by Clio
Manchester: Innovate Legal is coming to you! Join an evening of discussion and networking for legal practitioners—hosted by Clio.
Date and time
Wed, 29 Mar 2023 17:30 - 21:00 BST
Location
Whitworth Locke, The Storehouse 74 Princess Street Manchester M1 6JD United Kingdom
About this event
This March 29th, Clio is bringing its popular discussion series to Manchester.
At this free event, you'll join us to hear from some of the UK's leading legal influencers and experts. They'll give you the latest insights on running a law firm, including tools and tips for improving your sales and marketing, and techniques to set your firm up for success in a competitive environment.
The discussion portion of the evening will be followed by a networking session, where you'll get to meet and talk to other legal professionals from your area in a relaxed and welcoming environment.
Guests on the lineup include the innovative founder and Managing Director of the law firm, Thrive Law, Jodie Hill, legal marketing expert and qualified solicitor Rachel Tombs (Orion Legal Marketing), Alex Holt (Chief Revenue Officer at The Cashroom), and Emcee Sarah Murphy (General Manager, UK & Ireland at Clio).
We're excited to welcome you to Manchester. However, be advised that space is limited. You must register in order to attend this event.
When: Wednesday, 29 March 2023
Where: The Storehouse at Whitworth Locke, 74 Princess St, Manchester M1 6JD
Time: 17:30 pm - 21:00 pm
Format: Drinks & food, with light programming
Who should attend this Innovate Legal event?
Innovate Legal is an exclusive event for legal professionals who want to grow their knowledge, network, and skill sets through learning from—and connecting with—industry peers. This event is specifically tailored to business owners, managing partners, and lawyers, including sole practitioners and those working in or running high street and boutique city law firms.
What value will you get from attending?
The Innovate Legal event series will provide you with a chance to fast-track both your own personal career growth and your firm's journey to success. You will make lasting professional connections and gain invaluable insight from legal innovators and leaders.
Who is speaking at this event?
Jodie Hill, Managing Partner, Thrive Law
Following her mental breakdown (which she now refers to as her mental breakthrough!), Jodie Hill decided to set up her own employment law firm where her values around mental health and diversity & inclusion would be the foundations of the firm and are embodied in everything she and her Tribe do.
Thrive Law was born in 2018, when Jodie was just 29, and is uniquely positioned as the only employment law firm that adopts this unique approach blending D&I well-being with employment law and HR advice, in the UK.
Jodie is passionate about creating an environment where both she and her team can Thrive. Her mission is to educate and empower employers to create their own thriving cultures.
Outside of Thrive, Jodie is the founder and chair of This is Me Yorkshire, a global business led mental health initiative, she is a Law Care Champion, a member of Neurodiversity in Law, and in 2020 was appointed as a member of The Law Society's Employment Law Committee.
Jodie has appeared on BBC world and regional news, Sky news, and ITV news as well as featured in The Guardian, The Times, and The Independent to name a few.
Sarah Murphy, General Manager, Clio EMEA (Emcee)
Building and scaling efficient, successful teams and businesses to be their best and most innovative is what Clio's General Manager for EMEA, Sarah Murphy, does every day. Through supporting all of Clio EMEA's teams, including customer support, engineering, and sales and marketing, she is driving the actions that help Clio to achieve its mission to transform the legal experience for all, in the UK, Ireland, Europe, the Middle East, and Africa.
With a long career spanning diverse industries, including finance, insurance, telecommunications, and legal technology, she works to empower legal professionals of all kinds to meet the challenges of running a law firm. She is passionate about building and scaling teams, new market exploration, and her two children.
Rachel Tombs, Legal Marketing/Business Development Specialist, Linkedin Coach, and Solicitor (Non-Practising), Orion Legal Marketing
Rachel Tombs was a practising solicitor for 15 years and during her legal career, Rachel became involved in the marketing and business development work that was being undertaken by the various firms in which she worked. She quickly discovered that effective marketing could deliver exceptional results for all legal professionals.
Since leaving practice, seven years ago, Rachel and her award-winning specialist team at Orion Legal Marketing have worked with over 500 businesses and law firms, nationally and internationally, delivering bespoke and successful marketing and business development services.
Alex Holt, Chief Revenue Officer, The Cashroom
Alex Holt qualified as a solicitor in 1993 and became a partner at two top 100 law firms before moving to set up his own executive search business specialising in strategic resourcing and M&A for law firms. Alex then went on to join a global IT outsourcer called Steria where he created and delivered their strategy for developing a legal sector offering. In 2014, he joined Cashroom to head up Business Development and open Cashroom in England and Wales, and then the USA in 2022, leading new market and product exploration.
NOTE:
If you sign up for the event, Clio may inform you of any event changes or provide you with resources (such as event slides) via email.
Space is limited, we recommend booking early to secure your place; you can register today on this page.
About the organiser
Clio is the only cloud-based case management software to be both endorsed by the Law Society of England and Wales, and approved by the Law Society of Scotland. Find out more at www.clio.com/uk.