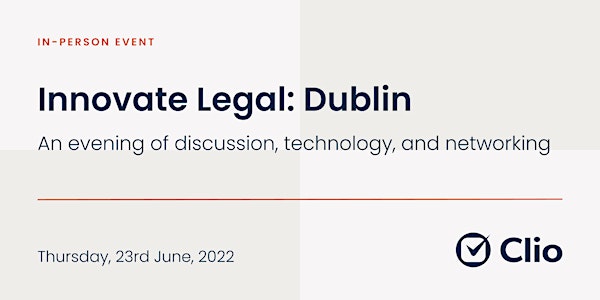 Innovate Legal: Dublin
An evening of discussion and networking, for legal practitioners and law firm owners.
When and where
Location
Medley - Private Dining & Party Venue Unit 7 Old Irish Times Building, Fleet Street Dublin Ireland
About this event
Come to an evening of discussion and networking for legal practitioners—hosted by Clio.
Clio is delighted to announce the return of our popular and highly regarded Innovate Legal series, an in-person event series that brings legal experts and legal professionals, which first kicked off in 2019.
Join us on Thursday the 23rd of June for our Ireland event—Innovate Legal: Dublin. Together, we'll learn from leading minds in the Irish legal sector, including solicitor and legal marketing innovator Richard Grogan, who will be sharing his experience of growing his firm's and his personal brand and reach with social media. You'll also get to meet fellow innovative legal professionals and expand our skill sets in managing legal businesses.
Space is limited, you must register in order to attend this event.
When: Thursday, 23rd June
Where: Medley, Unit 7, Old Irish Times Building, Fleet Street
Time: 17.30 - 21.00
Format: Drinks & food, with light programming
Who should attend this Innovate Legal event?
Innovate Legal is an exclusive event for legal professionals who want to grow their knowledge, network, and skill sets through learning from—and connecting with—industry peers. This event is specifically tailored to business owners, managing partners, and lawyers, including sole practitioners and those working in or running small and medium law firms.
What value will you get from attending?
The Innovate Legal event series will provide you with a chance to fast-track both your own personal career growth and your firm's journey to success. You will make lasting professional connections and gain invaluable insight from legal innovators and leaders.
Who is speaking at this event?
Gerard Groarke, Barrister, Law Library
Gerard Groarke has been practising in civil, commercial and criminal law at the Irish Bar since 2002 with a focus on trial work and courtroom advocacy. Since 2015 he has been experimenting with commonly available technologies and developing his own computer-based tools, all with a view to providing better service to his solicitors and clients and improving efficiencies in his practice.
He is the first barrister in Ireland to go fully paperless, the first barrister in Ireland to custom-build a document automation solution to streamline his drafting, and the first barrister in Ireland to provide a web-based upload facility to enable solicitors and DPA clients to upload instructions and multimedia directly to his office.
Maria O'Donovan, Founder at Maria O' Donovan & Co.
Maria has been working extensively with families going through separation as part of her family law practice. For over 12 years, she has been guiding and supporting clients through the separation process. Through this work, Maria has recognised that more than any other issue, poor communication leads to higher levels of conflict and stress. Maria has seen that where her family law clients take her communication advice on board, this has proven to lead to lower levels of conflict and particularly about the children.
Maria is a certified coach, mediator, collaborative practitioner and facilitator in restorative justice as well as being a family lawyer. These skills and training mean that she understands the complex issues that can arise in separation and how best to promote effective communication.
Richard Grogan, Principal, Richard Grogan & Associates
Richard Grogan is the Principal of Richard Grogan & Associates . Richard has a proven record in online marketing having over 30, 000 connections on Linkedln , 100,000 plus on Instragram , and , over 250,000 on Tik Tok . Richard has developed a marketing and communication status with minimal financial outlay . Richard has a proven track record in various mediums on growing your presence on Social Media. Richard is a regular contributor on television, radio , and national newspapers . Richard is the first to admit he cannot sing and cannot dance but has cracked the social media platforms by bringing a unique style to them. Richard will be giving his experience and setting out how you can use social media
Colin Bohanna, General Manager, UK & Ireland at Clio
As the General Manager for Clio in EMEA, Colin Bohanna spends his days bringing Clio, a cloud-case management software that is working with the Law Society of England and Wales and approved by the Law Society of Scotland, to law firms, empowering them to be client-centred and firm-focused. Having worked in the technology space since the late 1990s, Colin has had the opportunity to see how much of a positive impact technology can have in the world of business. With Clio, he is once again at the forefront of a major technological change in industry, this time the transformation of law through legaltech innovation. He is also passionate about supporting new businesses through his mentoring activities.
NOTE:
If you sign up for the event, Clio may inform you of any event changes or provide you with resources (such as event slides) via email.
Please note that your name will be shared with Medley for health and safety purposes, such as in the event of a fire or other emergency.

Space is limited, so we recommend booking early to secure your place. You can register today on this page.