Event Information
Refund policy
Contact the organizer to request a refund.
Eventbrite's fee is nonrefundable.
The world's largest dedicated gathering of InnerSource practitioners
About this event
Join us at the world's leading gathering of InnerSource practitioners.
InnerSource takes the lessons learned from developing open source software and applies them to the way companies develop software internally. The InnerSource Commons (ISC) is the world's largest community of InnerSource practitioners, who have come together with the goal of creating and sharing knowledge about InnerSource. You can join the community at www.innersourcecommons.org.
We come together at our summits to learn and share experiences. We've missed seeing everyone in person over the past 2 years, but we are looking forward to seeing everyone online at this year's virtual summit. Join us there to...
Hear about global trends in InnerSource.
Learn from others who are on the journey of InnerSource adoption.
Share your own experience and meet like-minded people, all of whom are passionate about making InnerSource a success within their respective organizations.
Keynote Speakers
For our 13th Summit, we are delighted to announce Brian Behlendorf, Executive Director of Hyperledger and Linux Foundation Public Health, and Jono Bacon, author of the award winning book People Powered, as our keynote speakers. Joining Brian and Jono, we have an amazing lineup of speakers: all new and familiar faces sharing their InnerSource stories with us for this event. Speaker and schedule details will be added over the coming days and weeks. See below for more details.
Sessions
This is our first summit planned over multiple timezones so we look forward to seeing you there, no matter where in the world you are sitting. The summit will comprise of 3x 3.5 hour sessions, each timed for our community in particular regions. Each sessions will have a unique set of speakers. We welcome everyone to all of them. One registration covers all three sessions.
Part 1 is timed for Europe, Africa, East Coast US, and early birds on the US west coast: (Wed 17th Nov UTC 3-6:30pm / CET 4-7:30pm / EST 10-1:30pm / PST 7-10:30am)
Part 2 is timed for APAC, Europe, Middle East, & Africa: (Thur 18th Nov UTC 8-11:30am / CET 9-12:30pm / IST 1:30-5pm / AEST & CST 7-10:30pm)
Part 3 is timed for East & West Coast US, Europe & Africa: (Thur 18th Nov UTC 5-8:30pm / CET 6-9:30pm / EST 12-3:30pm / PST 9-12:30pm)
The schedule is included below, and can be seen in more detail here.
Tickets
There are three ticket options for the summit:
Community ticket (free): for the ISC community and those who can't afford a registration fee
Community ticket with T-shirt ($35): access all sessions and receive a commemorative T-shirt after the event
Corporate ticket ($300): for those with corporate travel/training budgets who want to further support InnerSource Commons. Includes commemorative T-shirt
Once you have ordered your tickets, full details of how to access the event will be emailed to you one week before the event.
Speakers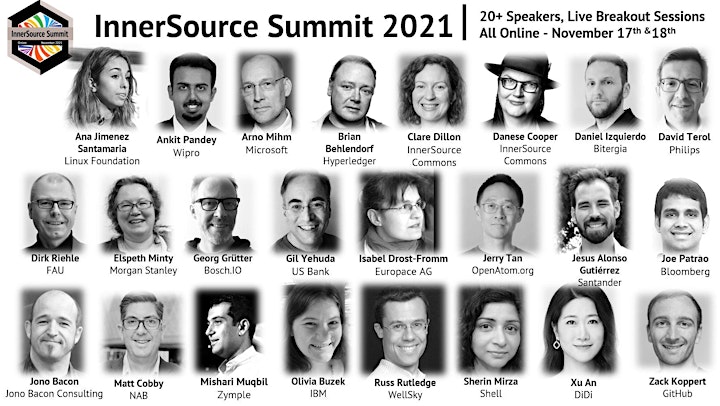 We have over 20 amazing speakers lined up for the 13th InnerSource Summit! We will be adding full schedule details shortly.
Ana Jimenez Santamaria, The Linux Foundation
Ankit Pandey, Wipro
Arno Mihm, Microsoft
Brian Behlendorf, Executive Director, Hyperledger & Linux Foundation Public Health [KEYNOTE]
Clare Dillon, InnerSource Commons
Danese Cooper, InnerSource Commons
Daniel Izquierdo, Bitergia
David Terol, Philips
Dirk Riehle, FAU
Elspeth Minty, Morgan Stanley
Georg Grutter, Bosch.IO
Gil Yehuda, US Bank
Isabel Drost-Fromm, Europace
Jerry Tan, OpenAtom.org
Jesus Alonso Gutiérrez, Grupo Santander
Joe Patrao, Bloomberg
Jono Bacon, jonobacon.com [KEYNOTE]
Matt Cobby, National Australia Bank
Mishari Muqbil, Zymple
Olivia Buzek, IBM
Russell Rutledge, WellSky
Sherin Mirza, Shell
Xu An, Didi
Zack Koppert, GitHub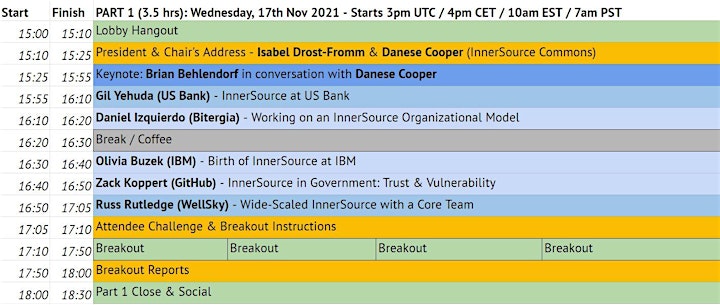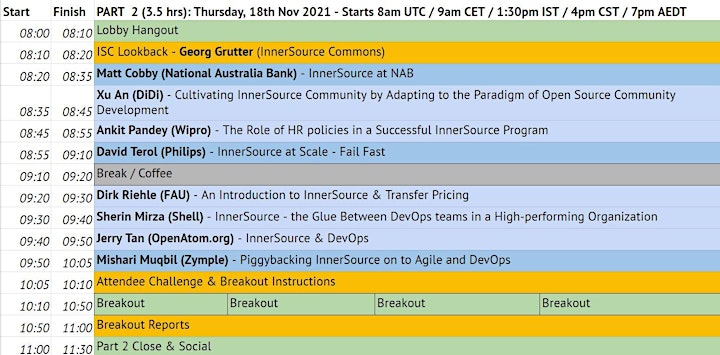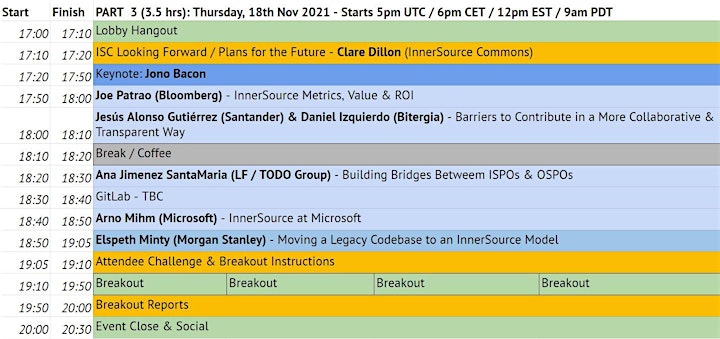 Date and time
Location
Refund policy
Contact the organizer to request a refund.
Eventbrite's fee is nonrefundable.
Organizer of InnerSource Summit 2021
The InnerSource Commons is the world's leading community for InnerSource practitioners. Founded in 2015, the InnerSource Commons is now supporting and connecting over 900 individuals from over 350 companies, academic institutions, and government agencies.
The InnerSource Commons supports practitioners and those who want to learn about InnerSource by a broad array of activities. It provides learning paths on how to get started with InnerSource, curates known best practices in the form of patterns, facilitates discussion on the InnerSource values and principles, and organizes the leading practitioner conferences dedicated to InnerSource - the InnerSource Commons Summits.
To join this growing community, please visit us at www.innersourcecommons.org.
InnerSource Commons' events operate under our Code of Conduct.