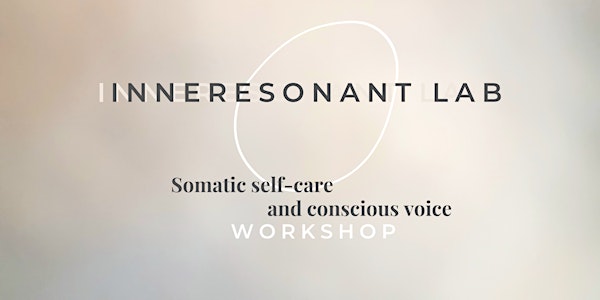 Inneresonant LAB
A space of the transformation and togetherness, where you will experience a tender activation of somatic intelligence and vocal practice.
When and where
Location
Buchholzer Str. 16 Buchholzer Straße 16 10437 Berlin Germany
About this event
"Embodiment has us remember our own wildness. When we remember ourselves we become less controllable and more real."
@the.embodiment.institute
Your body has its own deep knowledge, cumulated through centuries by all your ancestors, breathing the air molecules during their existence on Earth.
Your body is a vessel on a permanent negotiation with the environment, designed to collect information, answer to it and adapt.
Your body knows it all and speaks to you all the time. Do you know how to listen? Do you understand its language?
Your voice is your signature, powerful sound tool to communicate with other beings and environment. Have you ever call out in the space using the full volume of your voice? Travelling through air with a long, loud tone, making your whole body resonate and gives the other bodies in a given space a sound massage?
If you would like to explore together with us the topics from above, in between and below connected to embodiment practices and conscious voice work - you are in a good place.
On the Saturday, 28th of May from 10:00 to 17:00 we will hold a very special space for you in Prenzlauer Berg, Berlin.
A space of the transformation and togetherness, where you will experience a tender activation of somatic intelligence and vocal practices which will help you to slow down, regulate yourself, soothe your nerve system, work on resilience and connect to the profound inner dimensions of your whole being.
During our weekend workshop we want to initiate a community which will explore, learn and experience together on a basis of trust, inclusion and open communication in a trauma-informed environment.
We will take our time with everything, respecting a diverse digestion of the new informations for each participant. All the insights and observations will be shared in a circle.
In a smooth combination of a practice and micro-lecture, we will cover topics such as:
- your nervous system and how to cooperate with it
- polyvagal theory and why you should know it
- practices that your parasympathetic nervous system will love
- all the pathways to resilience
- in-self-landing / work with gravity
- exploration of diverse aspects of your voice
- releasing tensions through conscious vocal practice
- the healing potential of collective singing
- humming as a tool of self-regulation
Facilitators:
Asia Kubiakowska – somatic rebel, activist and founder of Sensib Bodywork, specializing in Thai massage and Osteothai, a work that combines osteopathy with traditional Thai medicine. She offers training and workshops in political bodywork, therapeutic touch, as well as somatic auto- and nervous system correction tools for female activists. She is currently in the process of training Somatic Experiencing. In 2021, she published her dissertation on social stratification in emancipatory social movements in Germany.
Paulina Miu Kuehling vocal artist, voice researcher and music therapist, deeply interested in building singing communities and facilitating personal growth through conscious voice practice and archaic songs and chants. She explores the relations and different potentials of communication between the human voice and the environment. Initiator of OTUCHA Singing Collective. She graduated from intermedia at UAP in Poznań, Polan (MA) and music therapy at the Academy of Music in Łódź (BA).
We are friends since many years and this workshop is a unique synergy of our life paths, common values and practices we share.
PRICE
We offer you a sliding-scale payment option as we believe the accessibility to embodiment practices should be beyond capacity of your economic situation.
1. Full Moon – 90 EUR – 8 spots
You are economicly stable, and you share fully from this state in a gesture of appreciation of the time and effort we invested in our workshop.
2. Half-Moon – 45 EUR - 3 spots
You are struggling with your economic situation, but you are sustainable enough to pay a half of normal workshop price in a gesture of appreciation to our effort.
3. New Moon – 0 EUR - 1 spot
You are in a challenging economic situation in your life right now but you are very motivated to take part in our workshop as you can sense it will support you on your life path.
Basic info shortcut
When: 28th of May (Saturday)
Where: Bremer Höhle, Buchholzer Str. 16, 10437 Berlin
Time schedule:
10:-13:00 - Part I
13:00-14:00 - Lunch break
14:00-17:00 - Part II
You can ask us anything and reserve your spot by sending an e-mail to:
inneresonantlab@gmail.com