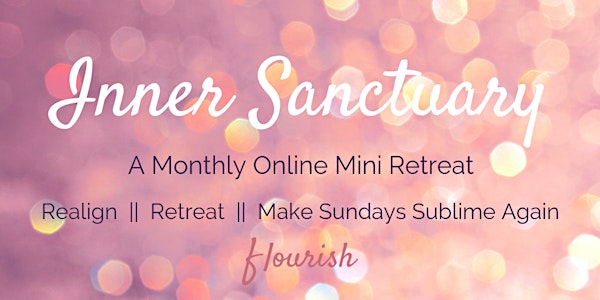 Inner Sanctuary (A Mini Online Retreat) - March: Embody Your Intentions
Refund Policy
Refunds up to 1 day before event
Description
Take refuge within.
What if you could go on retreat every month?
Make time for your inner knowing to come forth…
Reset to find your north star…
Rebalance heart and mind…
---
Want to deepen your intuition? Remind yourself of what is truly most important to you?
Do you want to bring an end to your inner battles, your negative self-talk, your energy leaks? Want to embrace greater levels of self-compassion and self-acceptance?
Can you take just 90 minutes each month to devote solely to your growth?
If yes, then I invite you to Inner Sanctuary, a once-a-month online circle held in a retreat format to bring clarity to your deepest desires and healing to your hidden wounds.
Inner Sanctuary is open to women and men who are willing to enter and hold safe space, go deep, and find their center. Each session will begin with an ease-ful guided meditation, followed by inquiry, journal writing, and discussion. We'll close the circle with a group energy healing.
The purpose of the Inner Sanctuary retreat series is to expand your self-awareness and supercharge your self-compassion. To that end, we'll explore new topics each month and with the exception of February, we will meet on the last Sunday of the month. Inner Sanctuary begins January 27th, 2019.
You'll receive online retreat access information by email once you register.
You can check your time zone using this handy dandy converter.
---
What people say after attending my retreats:
My experience at the Flourish retreat was incredible. Anne is an amazing facilitator, guiding all of us with her gentle spirit and direct nature. What I learned here has shaped me into a better me and I am very grateful. Thanks for helping on my journey, looking forward to the next time. - Krina
---
March Theme: Embody Your Intentions
We'll take a loving look at the intentions we wrote for the New Year and deep dive to discover where we feel aligned with our intentions and where we feel we miss the mark. We will practice embodiment, meaning we'll energetically rehearse what it would feel like to move through the world as a person who had already realized those intentions.
Just like we need to retrain our brains to think differently, we also need to retrain our bodies to act differently. If we want different outcomes in our experience, we need to learn to do things differently.


We need to break our chemical addictions to living in the past.
Dr. Joe Dispenza writes about this beautifully, but the jist is this: We think the same old thoughts day after day (roughly 70% of them stress-inducing and limiting) and those thoughts produce chemical reactions, also known as emotions. Our bodies become addicted to those stressful chemical cocktails coursing through our bloodstream, and the body says, "I gotta have more cocktail!"

And before you know it, you're living the same day you lived yesterday, feeling the same things you felt yesterday, and your life is getting dustier and dustier.
If you want to understand this on a visceral level, and experience embodying your intentions in real-time with me, then you'll want to join us this month for Inner Sanctuary.
---
Bring your cuppa tea, your fuzzy socks, and your journal. Light the incense, turn off the phone, and pamper yourself with a little headspace. It's me time.


Realign || Retreat || Make Sundays Sublime Again