INNER SAFARI Caregiver Conference: Courage, Conviction, Collateral Beauty
Actions and Detail Panel
INNER SAFARI Caregiver Conference: Courage, Conviction, Collateral Beauty
Sat, November 4, 2017, 8:00 AM – 4:00 PM PDT
Description
THE BEST EVENT HONORING ALL CAREGIVERS
November 4, 2017 8:00AM - 4:00PM
*ATTIRE: SAFARI Comfort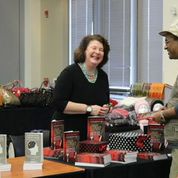 Support and Empowerment for professional and unpaid family Caregivers including screenings, stress and anxiety relief and a great atmosphere for leaders in Caregiving to network and mingle with currently serving or interested in serving.
Confirmed:
Kathleen K. Conley, M.ED, An Anecdote for Today's Caregivers - Emergency Preparedness
Dr. Michelle Peticolas, Grief and Loss Expert, Film
Israel Hurtado, Author, Healing the Body Through Guided Meditation
Jim Chong, Co-Emcee and Panel Moderator: Legal Affairs, Advocacy and Gratitude
Pampering Room Facilitator
Meeting of the Support Groups: Caregivers, Stroke, Alzheimer's, Cancer, Well-Spouse, NAMI, Diabetes, Wives with Dementia and More
Many others pending!

If you think you are alone and not appreciated, you should be here.
If you feel like you are about to burn-out from Caregiving, you should be here.
If you don't consider yourself a Caregiver but are simply doing your duty as a child or spouse, but don't know the resources that are available to you, you should be here.
If you want to network with other Caregivers and share your experience with others, you should be here.
Not only is this special event designed for Caregivers, it is also a time for everyone to understand the valuable role Caregivers serve in the continuum of care.
Register deadline: October 3, 2017