Description
Are you the thoughts or voice in your head?
You Can Transcend the Voice in Your Head
Silence the noisy, nagging inner critic

Behave differently, get better results from others

Access your natural wisdom, inner peace, love, joy

How to begin the most powerful spiritual practice there is: Self-Inquiry
Discover a seven-step process you can use to
shift your state, perception, experience, and behaviour,
--and get what you want for yourself.
It's how to be the change you want to see!
An experience like no other - Make immediate discoveries that transform, permanently.
You'll acquire knowledge and these skills:
the Five Powers you were born with, but didn't know
you have, which have been running unconsciously,
causing havoc in your life.

the difference between being conscious and unconscious

Exceptional human communications skills and tools
Explore the truth of what's actually going on, and who you
are beyond a story.
The Author & Speaker - Cindy Teevens
"I find you one of the few upcoming writers in this
genre whose work rings true for me—whose head
and heart are aligned." ~ Dan Millman, Bestselling Author,
Way of the Peaceful Warrior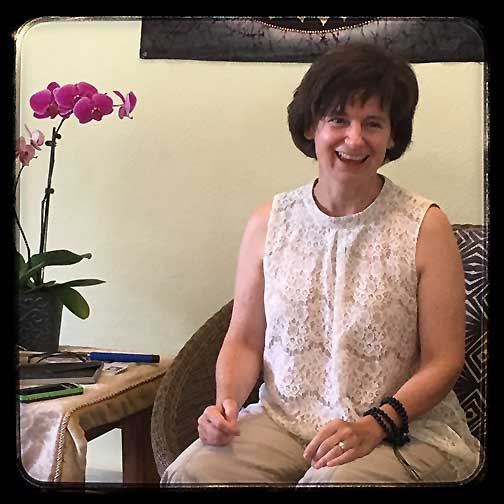 Six years after the suicide of her father, in one moment her own intense suffering was swapped for amazing joy, altering her life permanently. Happiness and peace became her predominant states. Laughter exploded at the simplicity and power of the shift, and tears of gratitude flowed.
Understandings began to come about how we have been living backwards, how we have mistaken the outside for the inside, and how we have tethered ourselves to the uncontrollable winds of change in the midst of freedom—and how we can return to truth, sanity, and peace.
Months later, an explosion of love ended separation of self and other, unveiling the fact of the One reality, followed by uproarious laughter at the cosmic joke.
"I love the way you communicate and the effectiveness
of the process you use —so simple and so powerful.
Your clarity is beautiful and effective because you
speak from direct experience. That is so evident."
~ Laurell Eden, NY City
LUNCH is not provided, however there will be a
one-hour lunch break, and the Green Door Restaurant
is across the street. Cindy will be eating there.
--
THIS LIVE EVENT IS BEING RECORDED
By participating, you authorize Cindy Teevens,
Go Beyond, and any other related associates
to film, photograph, video record and otherwise
record your image, performance, voice or any other
aspect of your likeness at the Event (collectively
called the "Recording"), and the perpetual right
to use the Recording and any materials based or
derived from these items, in any manner or media
and for any purposes without any additional
consideration.
You shall have no right of approval, no claim to
compensation and no claim (including, without
limitation, claims based upon invasion of privacy,
defamation or right of publicity) arising out of
any use, alteration, blurring, distortion, faulty
reproduction, fictionalization, illusionary effect,
or use in composite form of you image, voice
and/or likeness.