A 6-week virtual inner healing seminar will expose roots and help students unmask the hidden wounds & embrace who you are in God!
About this event
The 6-week Inner Healing Seminar is designed to introduce you to God's healing principles and how to apply these principles in your daily lives to practice a disciplined lifestyle of healing. The plan of study for Inner Healing focuses on understanding the importance of developing a love for God, who is our first love, then discover authentic love and acceptance of who you are, and lastly, applying this love principle so that we can keep God's greatest commandment found in Matthew 22:37-39. The inner healing seminar will expose roots and help you unmask the hidden wounds even from childhood to unlock & embrace who you are in God! The benefits of this seminar include: *Developing a healthy self-perception; *Inspiration to forgive and move forward; *Developing Emotional Wholeness; *How to apply biblical principals to help you heal; *Understanding how to love God, yourself, and others; *Self-acceptance and personal growth. The course workbook along with the reading and homework assignments will activate the healing you are needing in your life. There is a one-time non-refundable registration fee of $50 to cover the cost of necessities you will use for the seminar. Please understand you are not being charged for the actual teaching of inner healing.
When you register for the seminar you will receive the Beautiful You, On The Inside Workbook, The Inner Healing Study Manual, the course syllabus, and access to the course assignments, which will be forwarded to you via the email address that is provided. You will also gain access to the Seminar room via FB Messenger.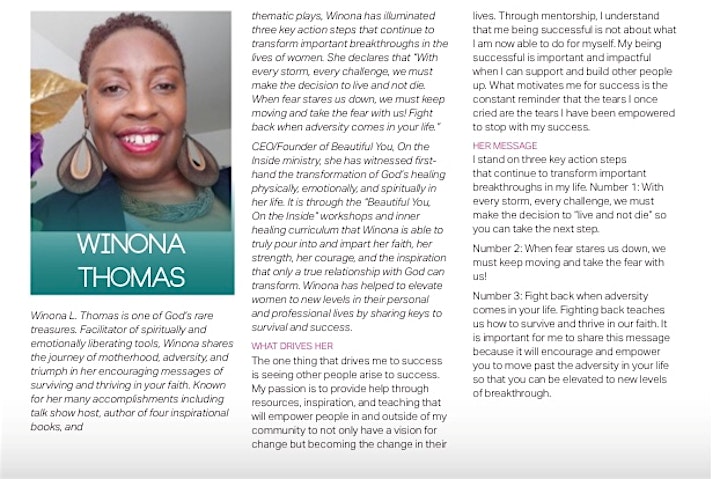 Date and time
Location
Refund policy
Organizer of Inner Healing Seminar
Beautiful You, On The Inside
"Be Made Whole in Jesus name" (Matthew 9:21,22)
Inner Healing deals with being set free from emotional wounds. Through Gods healing we are exposing every root that was not planted by God in Jesus name (Book Matthew). Receive the Inner Healing and Restoration God has for you! "Ask God to change what is on the inside. Ask Him to remove, pride, shame, doubt, fear, anger; all things that were not present "before thou came forth out of the womb" (Jeremiah 1:5)."