Inner Harvest: Nourish Your Spirit, Body & Connections
Connect to nature, yourself, & other community members in nourishing autumn 1/2 day retreat. Guided nature walk, fall lunch, & make chai
About this event
As daylight hours wane and crisp autumn air livens our bones, the need for nourishment arises. Join us for a guided nature connection walk and experientials, and a communal meal to nourish your spirit and body.
Our easy to moderate morning walk will include few hills and some bumpy terrain with many stops along the way to observe and reflect on what is happening around us and within us. We'll explore ways to see more wildlife, learn about some trees and animals in our ecosystem, and do practices to help quiet the mind and improve relationships. The day will be led by Kimberly Rose, M.Ed., naturalist and eco-therapist with Relational Rewilding Nature Guiding, and Emily Hertz, M.Ed., naturalist and Audubon educator.
We'll gather at Genesee Mountain Park Picnic Shelter in the morning for a few hours, then we'll head to a near-by private ranch on Lookout Mountain. Winter squash soup will be provided (bring own lunch if desired), and everyone will craft their own jar of chai to take home.
Bathrooms will be available close to the park as well as at the ranch.
Email: wild@relationalrewilding.com for questions.
BYO/Supplies
A warm beverage will be offered prior to morning experientials; and bring water bottle and snack if desired
Layers of clothing for varying temps and weather
Cushion or towel to sit on ground *optional
Notebook & pen *optional
Binoculars *optional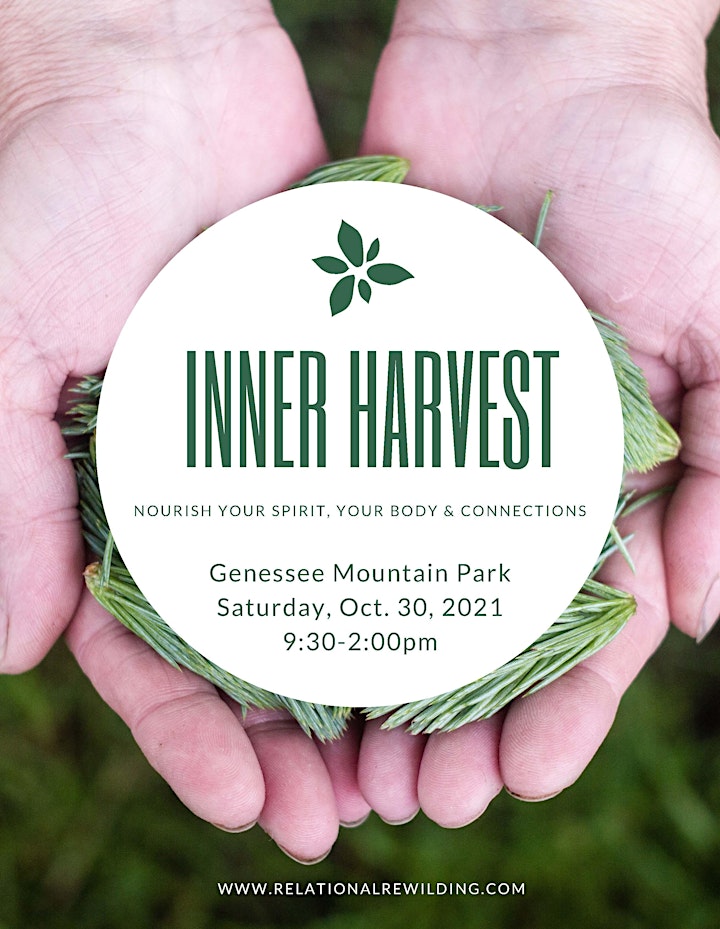 Organizer of Inner Harvest: Nourish Your Spirit, Body & Connections