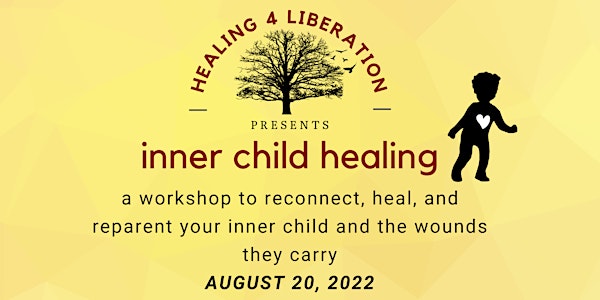 Inner Child Healing
Are you ready to meet and heal to your inner child? Experience deep, transformative healing and reparent the little one within.
About this event
Can you remember the who you were before the world told you who you should be? Before the conditioning and pain, you experienced?
As children what we don't get from those around us impacts us just as deeply as what happens to us.
Whether it be from trauma, limiting beliefs, bullying, or core wounds, the child that experienced these situations still lives within you. The inner child holds onto the pain from the past since it is left unprocessed. So even in our adult lives we are still experiencing the impacts of what the child self experienced.
Beneath these wounds, labels, negative conditioning, stored trauma, and however, lie the truth and power of who you are and the opportunity to liberate the inner child from the narratives and conditioning. Together we will take a journey to the subconscious mind where the inner child lives so you can move past an unresolved childhood wounds. These wounds impact our adult lives by creating mental, physical, emotional, energetic, and spiritual imbalance and dis-sease. The dis-ease can manifest in illnesses, low self-esteem/worth/efficacy, trust issues, confusion, disconnection,
This experiential and immersive workshop and healing circle will allow you to not only connect and heal your inner child but experience transformative holistic healing of the mind, body, soul, and energy.
If you are seeking to experience deep transformative healing that can help you to:
reconnect to your inner child
understand how your inner child communicates with you and their needs
move through unresolved childhood wounds
free yourself from conditioning and narratives of the past
release stored trauma in the body
heal on an energetic and spiritual level
learn practical tools and exercises rooted in trauma research and modern science
reprogram your subconscious
discover a powerful process to reparent and nurture yourself
begin to embody your authentic self and soul essence
experience deeper connection to yourself
this is the workshop and healing circle for you.
Together you will be guided in:
mindfulness
energy and shamanic healing
hypnotic regression using visualization meditation
somatics (mind-body) exercise to release stored trauma
divinely channeled message to provide healing, guidance, and insight
small group reflection
Led by Nchedochukwu Ezeokoli, MPH (they/them). Nchedochukwu is a spiritual consultant, healing-centered coach, integrative holistic healer, medicine wo/mxn, speaker, writer, and co-founder of Healing 4 Liberation, a visionary holistic healing studio. Nchedochukwu's practice includes innovative holistic healing strategies based in modern + ancient approaches that are rooted in trauma research, multidisciplinary sciences, ancient wisdom, holistic health modalities and the energy/spiritual arts. They hold certifications as a Reiki master teacher, mindfulness instructor, and neuro-linguistic programming-based coach. They are also a lineage holder in the water priest/ess tradition as a descendant of traditional Igbo medicine people (diviners, herbalists, prophets, healers-priests) with strong psychic abilities called dibias ("shamans").
Nchedochukwu is passionate about guiding others to heal holistically from the past, trauma, and core wounds so they can embody their authentic selves and true essence for a liberated life.