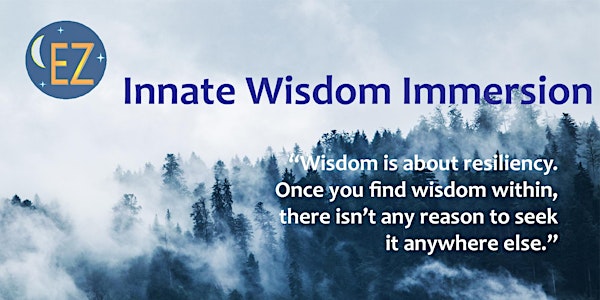 Innate Wisdom Immersion
Delve into your strengths beyond life's challenges. Our problems may not be the same, but the source of wisdom is within everyone already.
About this event
Welcome to Innate Wisdom Immersion!
This is a Three Principles open group for anyone interested in learning about the wisdom within oneself.
Why Attend the Innate Wisdom Weekly Series?
If you are at a point where you want to align balance in your career, relationship, family, or life purpose, here is your opportunity to immerse yourself in Wisdom.
Consider this your moment to enhance your life in a supportive and explorative group. Bring your topic, heart, and your insights to share your experiences.
Why Share Wisdom?
Too often, there is a focus on personal and global problems, and when given room to spawn, it taints experiences. There is a more profound way to Be in life, and it is seeing with wisdom.
Understanding our essence reassures there is more to life than the forms it creates. Problems are temporary, so why give them permanent residence? The wisdom within is potential in action, and it can enliven every thought and moment given a chance.
Insightful wisdom can bring a new start to life, and it's just a thought away!
What to Expect?
If you have read this far, thank you! This group is about grounding in wisdom, so there is nothing to be taught. It means no lesson plans, lexicons, or methodologies. Just sharing from the heart of the moment!
Certainly, this group supports open curiosity and listening without resistance, but it is a "come as you are" kind of group to find how it gently leads to your wisdom within yourself.
Innate wisdom is a group where you can give yourself a moment to delve through the muckiness of thinking, and explore your purer senses, beyond intellect's comprehension.
The logic of the heart aligns with wisdom, and it can be a leap into the unknown, but that's exploring!
Any gem of insight is shareable in this group because we can all learn something new from listening to one another and eventually, we realise it is within ourselves already.
What Are the Three Principles?
The Three Principles are about the essential functions of the psyche, referred to as Mind, Consciousness, and Thought. This group is based on 3P, and the founder is Sydney Banks. You can learn more about Syd by visiting his memorial site, Sydney Banks Original Website.
Where is this Group?
This group meets online, and the Zoom link is available once you register for this free event. As a follow-up reminder, the Zoom link is sent to your email each day before the group meets. Sharing is caring!
What are the Ground Rules?
As usual, groups have ground rules, so participants get the most fulfillment from the group experience. Here are the ground rules for you to review.
Wisdom Ground Rules:
1) Be Kind: Let's have fun with respect for everyone.
2) No judgment: Make sure everyone feels welcome and safe.
3) Participate: Raise your hand, share, listen, and support one another.
4) Accommodations: It's about Wellbeing. (DM Eric for logistical needs).
5) Camera/Audio On: Let's listen and see one another when possible.
Also, this group is planned to be recorded for private review and reflection. At a later point, if agreeable, highlights of the wisdom group are going to be posted to the Three Principles Explainer YouTube channel. T.B.D.
Who's Hosting the Innate Wisdom Immersion group?
This group is hosted by Eric Zuniga, a Three Principles practitioner specializing in trauma coaching. Eric is a registered practitioner with 3PGC, Three Principles Global Community. He is also DVAT (Domestic Violence Advocate) certified by the state of California and A.C.E.s Certified by the Postgraduate Institute of Medicine.
Have More Questions or Thoughts to Share Before It Begins?
Contact Eric Zuniga via his website, phone: (877) 783-2077, or email at admin@ericzuniga.com.