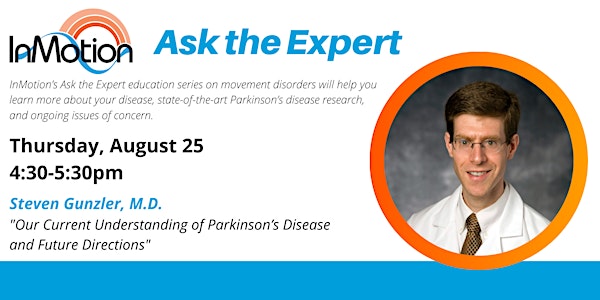 InMotion Ask the Expert: Dr. Steven Gunzler
Our Current Understanding of Parkinson's Disease and Future Directions
When and where
Location
InMotion 23905 Mercantile Road Beachwood, OH 44122
About this event
This talk will offer a broad overview of Parkinson's disease (PD).  Dr. Gunzler will discuss our current understanding of motor and non-motor symptoms of PD.  He will also review common PD treatments, including medications, as well as challenges faced in treating PD.  Finally, Dr. Gunzler will discuss current knowledge gaps, and some research that is underway to give us a better understanding of PD. 
Steven Gunzler, MD, is a Senior Attending Physician in the Parkinson's and Movement Disorders Center at University Hospitals (UH) and Assistant Professor of Neurology at Case Western Reserve University.  He sees patients primarily at UH University Suburban Health Center in South Euclid.  Dr. Gunzler obtained a Bachelor of Science degree from the Massachusetts Institute of Technology (MIT) with honors and his medical degree at the University of Rochester.  Following neurology residency training at the Mount Sinai School of Medicine in New York, he completed three years of fellowship training in movement disorders at the Parkinson Center of Oregon at OHSU in Portland, Oregon. Through his appointment at the Case Western Reserve University School of Medicine, Dr. Gunzler engages in teaching and research. Dr. Gunzler is the author of more than 30 peer-reviewed research articles, editorials and invited reviews, as well as four book and encyclopedia chapters.  In addition, Dr. Gunzler is a member of the American Association of Neurology, Movement Disorders Society, and Parkinson Study Group.
Those attending must show proof of being fully vaccinated (vaccination card with more than two weeks after the second dose, plus first booster shot). Proof must be presented at the registration desk on the day of the event. You will be turned away at the door if you do not comply. COVID-19 is an extremely contagious disease, and an inherent risk of exposure exists in any public place where people are present. By attending this event, you voluntarily assume all risks related to exposure to COVID-19. Masks are required. Subject to change. InMotion's mask/vaccination policy is available here.