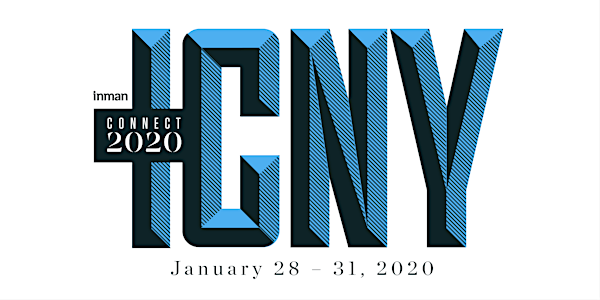 Inman Connect New York 2020 - Real Estate Conference
When and where
Location
New York Marriott Marquis 1535 Broadway New York, NY 10036
Description
The real estate industry is going through a period of unprecedented, historic change. Legacy brands are colliding with new tech-driven ways of serving the customer, and confusion and capital is everywhere. After ten years developing great public-facing search tools, those who've made their fortunes gathering up online eyeballs are now looking to disrupt the transaction itself, and making progress fast. Wall Street is in love with real estate as a fertile space of investment and growth.
New markets and ways of doing business are emerging faster than ever, and gone is the time for talk. New ways of transacting that actively change the role of the agent and brokerage system are no longer science fiction, they're here today.
WHAT TO EXPECT:
Inman Connect New York is your key to unlocking opportunity. At Connect you will discover the strategies and network to accelerate your business.

Speaker:
Hear from 250+ speakers, sharing groundbreaking content that will shape the way you see your business and the future of real estate. Be inspired and collect takeaways you can implement in your business.
Sessions:
General Sessions lead the way with thoughtful keynotes and interviews -- top thinkers and leaders. Dive in on a track that fits your needs: Agents, Brokers, Tech, Marketing, Data, Real Estate Capital, Thriving in a Turning Market and Learning Labs. You will control your own conference agenda.
Networking:
Make connections that will lead to multi-million dollar referrals, strategic partnerships and lifelong friendships. On stage, in the hallways, even on the dance floor — discover relationships that will change your business and your life.
Latest Technology:
Navigate change and gain deep insight on new technology transforming the industry. Engage and learn from real estate's tech leaders as they walk you through what's next. Get hands-on when you explore the must-have tech in Start-Up Alley and Partner Showcase.

Learn more about Inman Connect New York. See who's speaking and the full agenda here.


Bring a group of 5 or more to qualify for a special discount and exclusive VIP opportunities. Learn more.


FAQs
Cancellation Policy
Inman issues no refunds under any circumstances. Any and all payments made to Inman are not refundable for any reason, including, but not limited to, illness, acts of God, travel-related problems, acts of terrorism, loss of employment and/or duplicate purchases.
If you cancel your registration more than 5 weeks prior to the conference, you may transfer your registration to the next Inman Connect event for a $150 administrative fee.
Transfer Policy
You may transfer your conference registration to another individual for the same event you are registered for by notifying us in writing at customerservice@inman.com. All substitution requests will be processed within two business days. Attendee substitutions on or after the start of the event will require a $150 fee.
Force Majeure
If events beyond the reasonable control of the parties, including, but not limited to, acts of God, war in the United States, strikes, terrorist attacks in the city where the event is being held, or curtailment of transportation either in the event city or in the countries/states of origin of the attendees, which prevents at least 40% of the attendees from arriving for the event, so that it is impracticable, illegal, or impossible to hold the conference, Inman may cancel the event and offer attendees a credit for a future Inman conference in the amount of the paid registration fee.
Privacy Policy
Inman may share registration information with event sponsors. For more information please see our privacy policy.