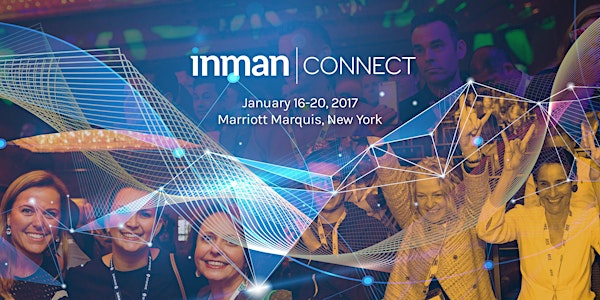 Inman Connect New York 2017
When and where
Location
New York Marriott Marquis 1535 Broadway New York, NY 10036
Description
Inman Connect is where more than 3,500 CEO's, tech entrepreneurs, marketing executives, top-producing real estate agents and brokers connect to network, make deals, explore current trends and technology, and to learn how to embrace and leverage the change that surrounds our industry. See the event page here.
Featured event speakers include:

Sallie Krawcheck, Wall Street's highest ranking woman
Fredrik Eklund, Broker & Million Dollar Listing NY
Diana Nyad, Author & Long-distance swimmer
Rand Fishkin, Founder at Moz
Rich Barton, Zillow Co-Founder & Executive Chairman
Jake Silverstein, New York Times Magazine Editor
Gabriele Oettingen, NYU Professor and Author
Mayur Bhatnagar, Arlo Skye CEO & Co-Founder
Why Should You Attend?
Because you are a deal maker
Connect draws a who's who of agents, brokers and executives from across the nation. You never know who you'll be sitting next to and where that connection could take your career and your business.
Because you have big ideas
At Connect, you'll get the tools and know-how to execute on that vision. Stop talking about the things you should be doing and start doing them. Learn from industry experts during hands-on sessions and labs that will set the foundation for your business success in 2017.
Because you understand technology
And the rapid pace at which technology moves. At Connect, you'll preview and test the industry's newest tools and technologies, often before they are available to the public. Start your year ahead of the technology curve.
See the full event agenda here.

FAQs
Cancellation Policy
Inman issues no refunds under any circumstances. Any and all payments made to Inman are not refundable for any reason, including, but not limited to, illness, acts of God, travel-related problems, acts of terrorism, loss of employment and/or duplicate purchases.
If you cancel your registration more than 5 weeks prior to the conference, you may transfer your registration to the next Inman Connect event for a $150 administrative fee.
Transfer Policy
You may transfer your conference registration to another individual for the same event you are registered for by notifying us in writing at customerservice@inman.com. All substitution requests will be processed within two business days. Attendee substitutions on or after the start of the event will require a $150 fee.
Force Majeure
If events beyond the reasonable control of the parties, including, but not limited to, acts of God, war in the United States, strikes, terrorist attacks in the city where the event is being held, or curtailment of transportation either in the event city or in the countries/states of origin of the attendees, which prevents at least 40% of the attendees from arriving for the event, so that it is impracticable, illegal, or impossible to hold the conference, Inman may cancel the event and offer attendees a credit for a future Inman conference in the amount of the paid registration fee.