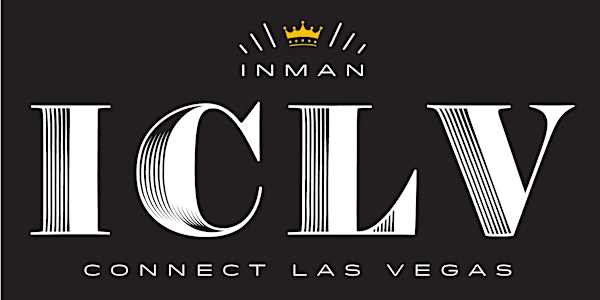 Inman Connect Las Vegas 2020 - Real Estate Conference
When and where
Location
Aria Resort 3730 S Las Vegas Blvd Las Vegas, NV 89158
Description
UPDATE: Inman Connect Las Vegas 2020 has been rescheduled for August 3-6, 2021. We're disappointed in this outcome, as we looked forward to a great event. But our primary concern is the safety and well-being of our community and employees, and it has become clear that an in-person event this summer will not be possible.
Now more than ever, however, we should be together. So we are introducing a brand new, fully digital event, Inman Connect Now, June 2-4, 2020. More here.
We have reached out to all Inman Connect Las Vegas 2020 ticket holders with more details on their registrations. If you are a ticket holder and have not been contacted, please email customerservice@inman.com. Thank you.
REAL ESTATE'S BIG TENT
Inman Connect is the leading event for the residential real estate community — a weeklong exploration and celebration of the glorious, complicated, rapidly evolving real estate marketplace. It's where agents, brokers, executives, tech and finance professionals, entrepreneurs and investors gather to learn, share, and forge essential relationships. It's where ideas are nurtured, tribes are found, and careers are built. It's the place to be this summer — under real estate's big tent at Inman Connect Las Vegas.
WHAT TO EXPECT:
Inman Connect Las Vegas is your key to unlocking opportunity. At Connect you will discover the strategies and network to accelerate your business.

Speakers:
Hear from over 250 speakers from inside and outside the industry, sharing groundbreaking content that will reshape the way you see your business and the future of real estate. Get inspired and collect hundreds of takeaways you can implement instantly.

Sessions:
In addition to thought-provoking General Sessions, Inman Connect offers specialized tracks specific to Agents, Brokers, Tech, Marketing, Data, Real Estate Investment, Mortgage, Teams and Learning Labs. There's something for everyone to personalize your own conference agenda.

Networking:
Make connections that lead to multi-million dollar referrals, strategic partnerships and lifelong friendships. On stage, in the hallways, even on the dance floor — discover relationships that will change your business and your life.

Latest Technology:
Navigate change and gain insights on how new technologies are transforming the industry. Engage and learn from real estate's tech leaders as they walk you through what's next. Plus, explore the latest products and must-have tech in Start-Up Alley and Partner Showcase.

---
Tickets to the Connect conference (Tuesday-Friday) can be purchased by clicking the green "Tickets" button above.
Bring a group of 5 or more to qualify for a special discount and exclusive VIP opportunities. Learn more.
---
FAQs
March 2020 Update: We understand that it's a difficult time to make firm travel commitments, so we're waiving all transfer fees for tickets purchased through March 31, 2020. If you decide later you can't join us in Las Vegas this year, notify us by June 30, 2020, and we will rebook you for Inman Connect New York 2021 or Inman Connect Las Vegas 2021 or transfer your ticket to a colleague without penalty. This clause supersedes all other terms and conditions listed below.
Cancellation Policy
Inman issues no refunds under any circumstances. Any and all payments made to Inman are not refundable for any reason, including, but not limited to, illness, acts of God, travel-related problems, acts of terrorism, loss of employment and/or duplicate purchases.
If you cancel your registration more than 5 weeks prior to the conference, you may transfer your registration to the next Inman Connect event for a $150 administrative fee.
Transfer Policy
You may transfer your conference registration to another individual for the same event you are registered for by notifying us in writing at customerservice@inman.com. All substitution requests will be processed within two business days. Attendee substitutions on or after the start of the event will require a $150 fee.
Force Majeure
If events beyond the reasonable control of the parties, including, but not limited to, acts of God, war in the United States, strikes, terrorist attacks in the city where the event is being held, or curtailment of transportation either in the event city or in the countries/states of origin of the attendees, which prevents at least 40% of the attendees from arriving for the event, so that it is impracticable, illegal, or impossible to hold the conference, Inman may cancel the event and offer attendees a credit for a future Inman conference in the amount of the paid registration fee.
Privacy Policy
Inman may share registration information with event sponsors. For more information please see our privacy policy.