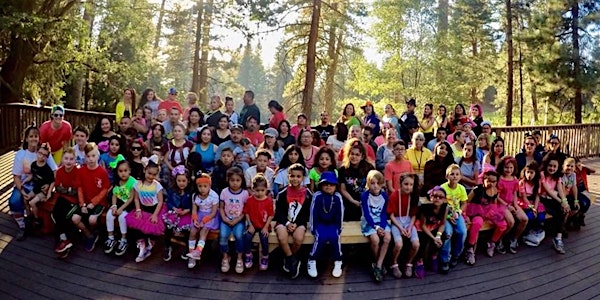 Inland Valley DHH & Microtia Atresia Family Camp
Hold on to your SOMBREROS! You'll need a SIESTA after this FIESTA!
When and where
Location
Camp Ronald McDonald for Good Times 56400 Apple Canyon Road Mountain Center, CA 92561
About this event
Thank you for your interest in the Inland Valley DHH & Microtia Atresia Family Camp!!!
We are thrilled you will be joining us this year! The Inland Valley DHH & Microtia Atresia Family Camp will held on Labor Day Weekend from Friday, September 4th to Sunday, September 6th, 2020 at Camp Ronald McDonald in Mountain Center, California. Come enjoy the beauty and serenity of pine-filled mountains and spacious meadows. Camp Ronald McDonald is located in the San Jacinto Mountains of Riverside County. This recently upgraded campsite, which is fully accessible, will provide memories that will last a lifetime.
Registration includes accessible cabin lodging, all meals (Friday dinner to Sunday breakfast), parent workshop, and all family camp activities and entertainment.
Full Weekend Registration is ONLY $99 per camper if you are a CA Hands & Voices Member. Non-member registration fee is $110 or you can become a member for just $25 (This membership covers your entire family for one year).
Registration will open March 1, 2020 with the option of a payment plan for our first time campers.
Registration will close when cabins are full or on Saturday, August 2nd at midnight. Please note: Registration fees are non-refundable.
To ask about our monthly payment plan, please contact our Camp Director, Yiesell Rayon at (909) 325-5089 or by email at yrayon@cahandsandvoices.org
If you have any questions, please do not hesitate to contact us! We look forward to seeing you at camp!
Volunteers are very important to the success of our camp. Each year we are inspired by the amount of people who are passionate and interested in becoming volunteers! If you are interested in volunteering for our 2019 camp, please fill out the volunteer application.
Camp Counselor Description:
•Organize small group games, (equipment and games provided by camp coordinators)
•Supervise children during scheduled children's activities
•Communicate with and assist other counselors
Volunteers will Receive:
•Free cabin lodging and meals
•Free camp t-shirt
•Certificate of Appreciation
Volunteer Requirements:
•Must be at least 18 years old
•Must be a student or DHH professional
•Must be proficient in ASL
•Experience working with DHH or Special Needs children is a PLUS!
By August 8, 2020, 20 volunteer counselors and 4 volunteer interpreters will be selected. A mandatory meeting will be held for all volunteers the weekend before camp. Please make sure you can attend this meeting.