INLAND EMPIRE SCHOOL OF THE PROPHETS 2018 - Managing Your Mantle
Description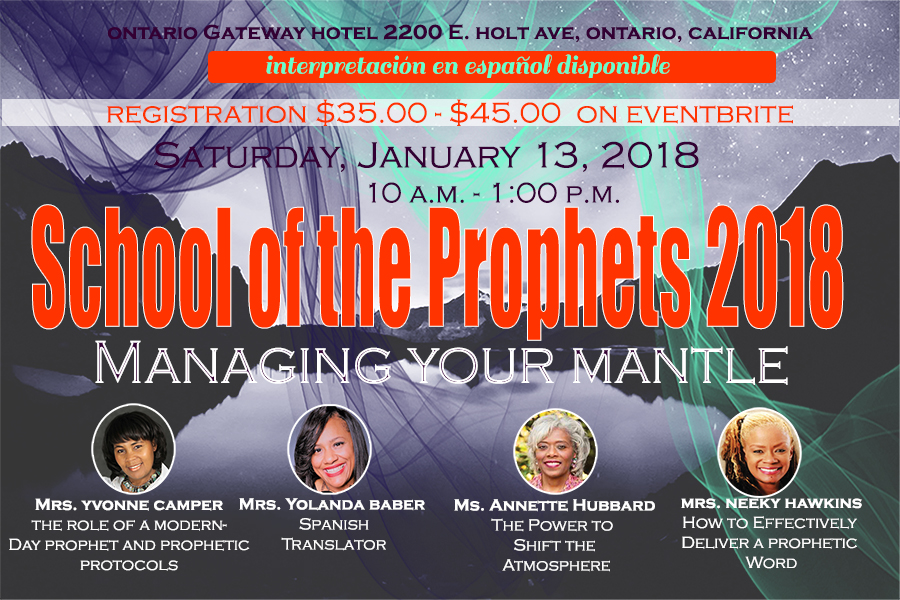 Prophets are born not ordained. God told Jeremiah, "Before I formed you in the womb I knew you, before you were born I set you apart; I appointed you as a Prophet to the nations" (Jeremiah 1:5 NIV). Amos 3:7 (ESV) says, "For the Lord GOD does nothing without revealing his secret to his servants the prophets." If the Prophet is God's go-to person it is crucial you are well acquainted with your prophetic obligations. Buried in the Prophet's mantle was everything needed to complete his/her mission, that is why it is important to MANAGE YOUR MANTLE. These intensive prophetic sessions will ensure that you are mantle ready.
To effectively manage your mantle the Prophet also needs the skill and ability to process pain. You either process pain or you bury it. Therefore, the things that can compromise a prophet's mantle are trauma, rejection, depression, grief, fear, molestation, church wounds, and abandonment. That is why it is not only our assignment to train Prophets but to heal them as well.
Furthermore, we believe in character and integrity and have a line-up of seasoned Prophets that will not only train you through their experiences but through their failures and struggles. These intensive training sessions are not only for Prophets but for those that serve them and those interested in learning more about the prophetic. Our primary of objective is to teach Prophets how to walk in integrity, character and to raise up Prophets that are not for profit.
Session Dates:
January 13, February 17, March 10, April 14, May 12, June 9, July 14, August 11, September 8, October 13, and November 10
Some of our topics are:
What is a Prophet?
Prophetic protocol
How do I know I am a Prophet?
How to effectively deliver a prophetic word

The power to shift atmosphere's
Understanding your jurisdiction
The Prophet and the Church
The Prophet and the Holy Spirit
The life of a weeping Prophet
The responsibility of a Prophetic Scribe
The mantle of the Prophetess
How to effectively manage a prophetic ministry

Witches in the workplace
How to heal from church wounds
How to handle and heal from rejection, trauma, and abandonment
Dreams and Visions
Raising prophetic children
The prophetic personality
The Prophet and mental illness
Date and Time
Location
Refund Policy