Description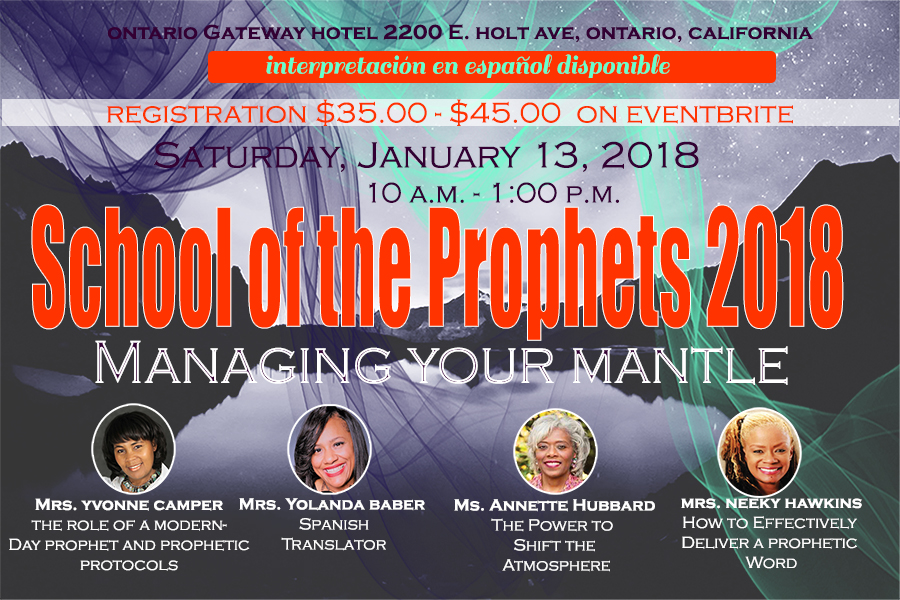 ONLINE PARTICIPANTS REGISTER AT THE LINK BELOW:
https://www.paypal.me/yvonnecamper
Prophets are born not ordained. God told Jeremiah, "Before I formed you in the womb I knew you, before you were born I set you apart; I appointed you as a Prophet to the nations" (Jeremiah 1:5 NIV). Amos 3:7 (ESV) says, "For the Lord GOD does nothing without revealing his secret to his servants the prophets." If the Prophet is God's go-to person it is crucial you are well acquainted with your prophetic obligations. Buried in the Prophet's mantle was everything needed to complete his/her mission, that is why it is important to MANAGE YOUR MANTLE. These intensive prophetic sessions will ensure that you are mantle ready.
To effectively manage your mantle the Prophet also needs the skill and ability to process pain. You either process pain or you bury it. Therefore, the things that can compromise a prophet's mantle are trauma, rejection, depression, grief, fear, molestation, church wounds, and abandonment. That is why it is not only our assignment to train Prophets but to heal them as well.
Furthermore, we believe in character and integrity and have a line-up of seasoned Prophets that will not only train you through their experiences but through their failures and struggles. These intensive training sessions are not only for Prophets but for those that serve them and those interested in learning more about the prophetic. Our primary objective is to teach Prophets how to walk in integrity, character and to raise up Prophets that are not for profit.
Registered students will receive the following:
- Book and Workbook
- Access to our private facebook page
- Certificate of Completion