INLAND EMPIRE CHRISTIAN SINGLES DANCE PARTY in Riverside - Hosted by Single Passion

Multiple Dates
Event Details
INLAND EMPIRE CHRISTIAN SINGLES DANCE PARTY
Presented by Single Passion Ministries
---
UPCOMING DANCE FOR YOUR CALENDAR

It's the New Year's Eve Celebration to Ring in 2011!
Singles, You're Invited to Attend
New Year's Eve "Masquerade Party"
2 DJ'S & DANCING IN 2 ROOMS
BONUS! Faith Dating Room, Midnight Toast
Complimentary Beverage + Much More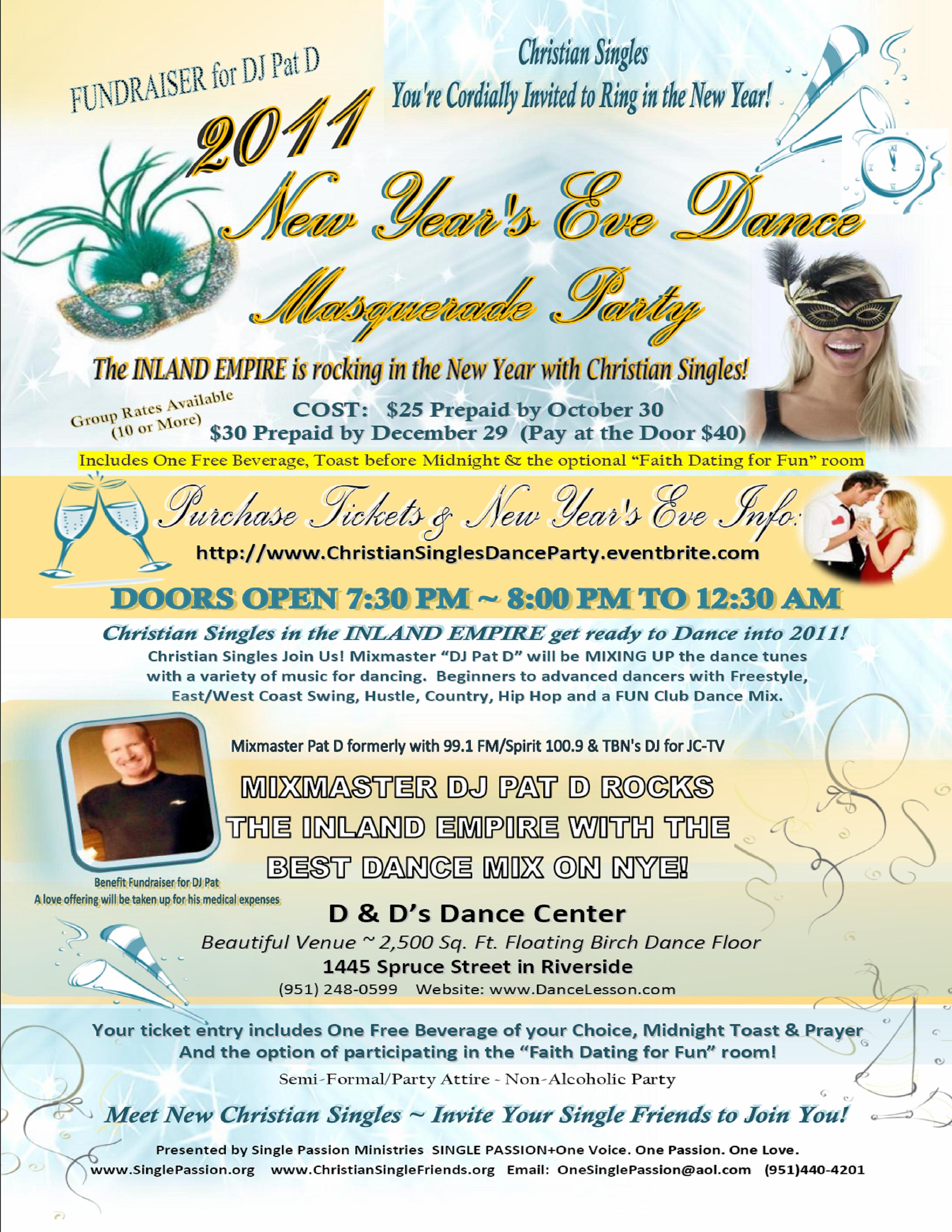 ADVANCE DISCOUNT TICKETS OR PAY AT THE DOOR

Cost: $25 Prepaid by October 30
$30 prepaid by December 29 (Pay at the Door $40)
This is an amazing price for a New Year's Eve Event!
Bonuses Galore!!

(GROUP RATES AVAILABLE)
Email: OneSinglePassion@aol.com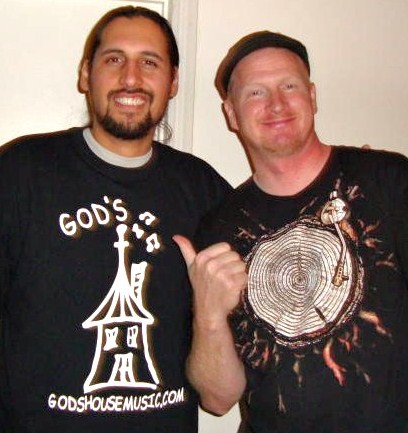 MAIN BALLROOM - MIXMASTER DJ PAT D PLAYING A VARIETY OF MUSIC FOR EVERYONE

SIDE BALLROOM - MIXMASTER AMUSE PLAYING "UNDERGROUND HOUSE" DANCE CLUB

---
JOIN US MONTHLY AT THE ONLY CHRISTIAN SINGLES
DANCE IN THE INLAND EMPIRE

Time: 
7:30 PM - 11:30 PM  (Doors Open at 7:15 PM)
Where:
Beautiful Dance Studio with a 2,500 sq. ft. floating Birch Wood Dance Floor. 
Plenty of Room for Dancing!
D & D's Dance Center
1445 Spruce Street
Riverside 92507  (951) 248-0599
Lots of Free Parking. Located in the Crossroads Business Park.
Drive to the back and look for the white lights on the building on the
left hand side.  Only 5 minutes off the 91 freeway.
Cost:   $15 Prepaid  |  Pay at the Door $20 (cash only)  AWESOME PRICE!

PAY AT THE DOOR OR PREPAY AT ANY EVENT IN ADVANCE OR ONLINE
---
For Prepaid Tickets / Dance Info:  www.SinglePassionDance.eventbrite.com
Dance Lesson Mixers:  Dance Lessons are included. Mixers rotate dance partners giving you an opportunity to meet new singles during the dance lesson.
The Best Dance Instruction in Riverside County! Taught by Dance Instructor & Owner, David Vanderzell from 8:00-8:30 PM and 9:30-9:45 PM.

Music Mix:  Our deejay is RIX MEGA MIX, Rick Johnston, who will be mixing up the dancing tunes for a variety of dancing from Freestyle, Nightclub Two-step, WCS, ECS, Hustle, more.
Need Directions? Put Your Address in on Google Map:  http://maps.google.com/maps?f=d&source=s_d&saddr=&daddr=1445+Spruce+Street,+Riverside,+CA&hl=en&geocode=&mra=ls&sll=37.0625,-95.677068&sspn=49.624204,113.818359&ie=UTF8&z=17
Location: D & D's Dance boasts of a ambient upbeat, fun atmosphere that is beautiful and spacious with plenty of tables and seating and a large 2,500 sq. ft. floating Birch wood dance floor.   http://www.DanceLesson.com

The "Single Passion" Inland Empire Christian Singles Dance includes a fun night of dancing with singles from all over So Cal and dance lessons. Bottled water, soda and appetizers will be available for an additional nominal cost.
Refund Policy:
No refunds will be offered for no shows or late arrivers.
For Christian Singles Social Meetups, please go to:
http://www.SinglePassion.org or http://www.ChristianSingleFriends.org
and click on this event and other singles events posted. It's free to join! 
---
Hosted by Single Passion Ministries

For more information or questions, please contact Laurie:

Email OneSinglePassion@aol.com or 951.440.4201 (email preferred).
Where

ELABORATE Creative Dance Studio
551 N Azusa Ave
West Covina, CA CA


Multiple Dates
Add to my calendar
Organizer
Single Passion Ministries
SINGLE+PASSION MINISTRIES is a nonprofit singles ministry reaching out to singles providing support and encouragement for singles everywhere! We host Christian singles events, a weekly Tuesday Singles meetup and other singles ministry opportunities monthly.  We also support other Christian singles ministries and post them on our websites. Our desire is for singles to be set free from aloneness, despair, and discouragement to find love and hope that is only found in Jesus and being apart of a "single family" of believers! We welcome all singles to our events and activities.

Inland Empire Christian Single Friends www.ChristianSingleFriends.org

or call at (951) 440-4201.

INLAND EMPIRE CHRISTIAN SINGLES DANCE PARTY in Riverside - Hosted by Single Passion