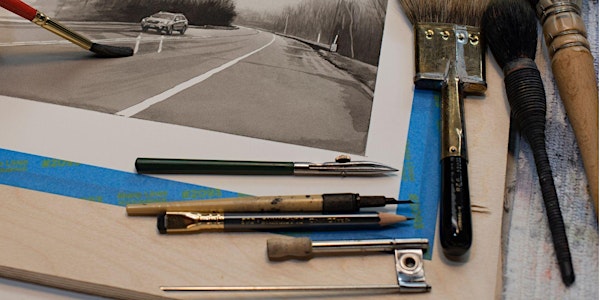 Ink Drawing Workshop w/ Artist Philip Brou (REGISTRATION FULL)
Registration for this workshop is full. Please join the waitlist in case a spot opens up!
When and where
Location
3S Artspace 319 Vaughan Street Portsmouth, NH 03801
About this event

Keeping Track of Time, Ink Drawing Workshop with Philip Brou
Sunday, September 25
10am-1pm
Location: Gallery at 3S
Workshop suitable for ages 16+
$20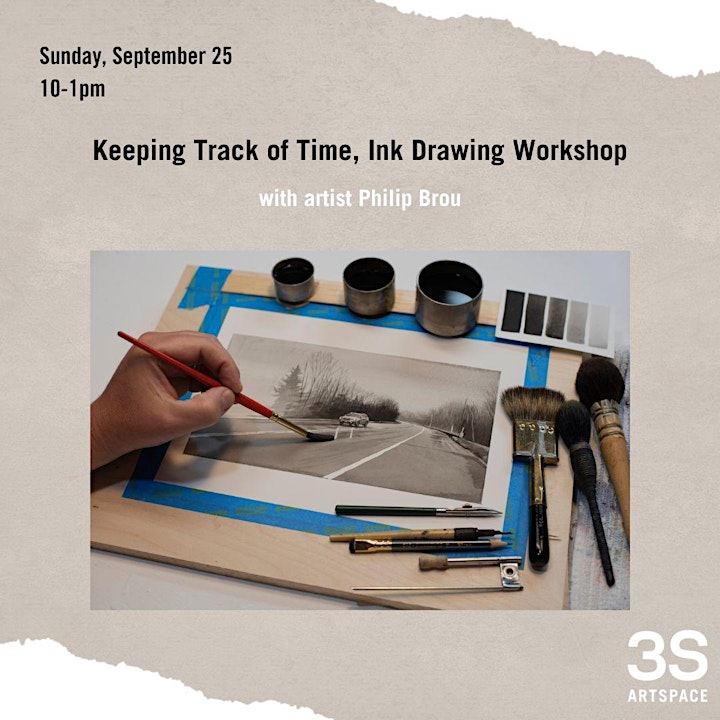 Join artist Philip Brou in a 3-hour workshop introducing tools and techniques involved in ink drawing for beginner through intermediate level artists. Participants will learn the basics of value structure, graphite transfer, dip pens, ink wash, and other tools and methods that will allow you to explore the limitless possibilities of ink.
We're thrilled to have Philip on site leading this workshop during the Gallery exhibition Keeping Track of Time, featuring nearly 200 of his ink wash drawings.
Participants should wear clothing that they do not mind getting ink-stained.
Pre-workshop Preparation
In preparation for the workshop, participants will need to gather source images:
Choose a place that is visually interesting to you. It may be indoors or outside. Think about this place. Observe the light, compositional features, time of day and weather conditions. Explore the location with a camera, smartphone cameras are perfect for this.
Create at least 10-images of the place. These could be radically different views of it or slight shifts to examine subtle differences.
Convert the 10-images to black & white and choose the three that are most visually interesting. Since the workshop will involve working in black & white, it can be helpful to choose images that have pronounced moments of both black and white and a large range of grays.
Print 2-copies of each of these 3-images in black & white, on plain white paper (no fancy photo paper, just plain paper). The image size should be no larger than 8x10".
Bring these 6-prints to the workshop to use as the source for our drawings.
About artist Philip Brou:
Philip Brou is an artist and educator based in Maine. Brou's work focuses on questions of identity, selfhood and the human condition. His meticulously researched and executed projects use a wide range of media and methodologies.
Brou earned his MFA from The Ohio State University and his BFA from Virginia Commonwealth University. He has been the recipient of awards including the Biennial Purchase Prize from the Portland Museum of Art, a Good Idea Grant from the Maine Arts Commission, Faculty Development Grants from Maine College of Art & Design, an Individual Artist Fellowship from the Greater Columbus Arts Council and a Presidential Fellowship from The Ohio State University. His work has been exhibited at the Portland Museum of Art, Portland; The Fitchburg Museum of Art, Fitchburg; The Museum of Art at the University of New Hampshire, Durham; The Center for Maine Contemporary Art, Rockland; The Institute of Contemporary Art at Maine College of Art & Design, Portland; Ohio Urban Arts Space, Columbus; Corey Daniels Gallery, Wells; Able Bake Contemporary, Portland; 1708 Gallery, Richmond; Office Hours Gallery, Burlington; The University of New England Art Gallery, Portland; and Kathryn Markel Fine Arts, New York City. Reviews and acknowledgements in notable publications include Two Coats of Paint, Art New England, Maine Arts Journal, The Portland Press Herald, The Portland Phoenix and The Columbus Dispatch.
Philip Brou currently lives in South Portland, Maine. He serves as Program Chair of Foundation and Associate Professor of Foundation and Painting at Maine College of Art & Design.
----
Click here to learn about our Health & Safety policies and measures.
Masks are strongly encouraged but not required during your visit to 3S Artspace.
By purchasing a ticket and/or visiting 3S, you are agreeing to follow 3S Artspace's health & safety requirements as they are on the date of your visit (not at the time of purchase). There may be exceptions or changes to our requirements for upcoming events, based on factors such as artist requirements and public health mandates.
Attendee Promise & Health Acknowledgement
All attendees agree to follow 3S Artspace policies and posted instructions during their visit. All attendees should evaluate their risk in determining whether to visit 3S. By entering the building, attendees voluntarily assume all risks related to exposure to COVID-19 and confirm they will adhere to both local and CDC quarantine requirements.
COVID-19 Warning
There is risk of exposure to COVID-19 in public spaces and there is no guarantee those attending an event will not be exposed to COVID-19.
Generously supported by Keane & MacDonald.
Thank to our year-round Lead Sponsor: Raka.