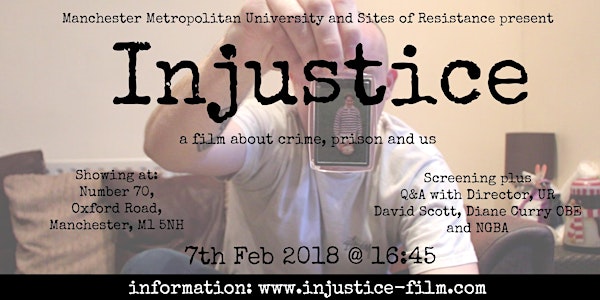 Injustice: Manchester screening
When and where
Location
Old Cornerhouse/ Number 70 Oxford Street Manchester M1 5NH United Kingdom
Description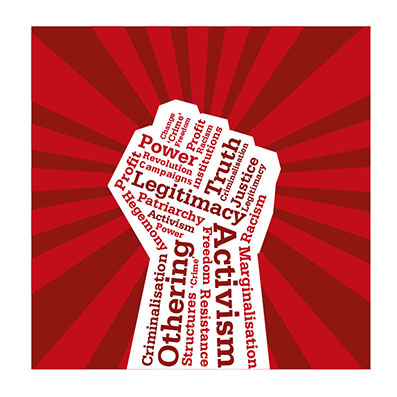 Mancheseter Metropolitan University, Sites of Resistance and Active Films invite you to the Mancheseter screening of Injustice.
"an astonishing piece of work" Faith Spear, former Prison Inspector
"an extremely powerful film". Emma Wilson, Charity Trustee and Lawyer
"The film will completely change your ideas about prison." Mary Baines, Russia Today
---
2016-17 saw the worst prison riots in decades. Across the country the prisons estate exploded as warned by campaigners and prisoners. The flames of the riots cast a light on the so-called prison crisis. Look hard and you'll see it's not that prisons are in crisis, prisons are the crisis.
Injustice investigates the crisis, and delves into the world of prisons, crime and the judicial system.
Ex-prisoners, activists, criminologists and even prison governors tell us who the prisoners are and why they are inside. We hear what happens inside, and outside. Injustice asks what are prisons supposed to do and what do they actually do.
---
Panel and Discussants:
The Director, Unsound Robin, is a convicted criminal.
Dr David Scott works for the Open University, his main research interests include the ethical and political foundations of penal abolitionism; the relationship between abolitionism, human rights and social justice; critical social theory and the concept of 'crime'; and critical approaches to poverty, prisons and punishment.
http://www.open.ac.uk/people/ds25349
Twitter: @dgscott2
Diane Curry OBE is the CEO of Manchester based charity Partners of Prisoners. POPs was established in 1988 by family members experiencing the stigma and distress of supporting a relative through a custodial sentence. Since that time our work has expanded over time to include the national i-HOP service (in partnership with Barnardo's) and multiple projects across the North-West and Yorkshire and Humberside. We have Family Support Workers attached to a variety of prison, probation and youth offending initiatives as well as running ten prison visitor centres, all with the aim of empowering families through the provision of timely information and targeted support. In our early years we were particularly active in promoting the needs of Black, Minority and Ethnic (BME) families and we continue to be committed to the development of support services which tackle the barriers faced by diverse communities to improve social inclusion.
http://www.partnersofprisoners.co.uk/who-partners-of-prisoners-are/
Twitter: @POPSFamilies
The panel will also include family members from the Not Guilty by Association campaign. This is a Manchester based group formed by families of young men from south Manchester who have been convicted under the doctrine Joint Enterprise. They are working to hold local agencies to account for the differential treatment of young black and minority ethnics people in the criminal justice system, and working with JENGbA and other partners to challenge the injustice of joint enterprise.
https://sitesofresistance.org/2017/09/14/not-guilty-by-association/
Twitter: @NGBA17
---
Running time: 1h06

CAST:
Eoin McLennan-Murray, Faith Spear, Gethin Jones, "Jimmy", Penelope Gibbs, Charlotte May Henry, Navdeep Seerha, Marcus and Karoline, Dr David Scott Gordon, Professor Joe Sim, Dr Deirdre O'Neill.