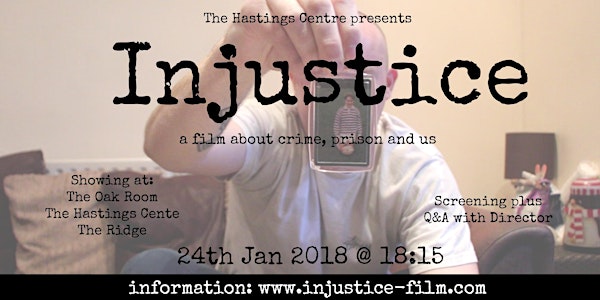 Injustice: Hastings Screening
When and where
Location
The Hastings Centre the Ridge The Ridge Hastings TN34 2SA United Kingdom
Description
"an astonishing piece of work" Faith Spear, former Prison Inspector
"A very powerful documentary. Don't miss it" Michael O'Brien author of Prisons Exposed
The Hastings Centre is hosting a special screening of a controversial new film on the crisis in prisons and the criminal justice system.
2017 saw the worst prison riots in decades, as we saw recently in HMP Lewes. Across the country the prisons estate exploded as warned by campaigners and prisoners. The flames of the riots cast a light on the so-called prison crisis. Look hard and you'll see it's not that prisons are in crisis, prisons are the crisis.
Injustice investigates the crisis, and delves into the world of prisons, crime and the judicial system. More than 60% of prisoners suffer mental health problems, the majority are from broken homes, poor backgrounds with little education or prospects. We have to ask whether further disadvantaging them merely deepens the problem rather than providing solutions.
Ex-prisoners, activists, criminologists, prison guards, inspectors and even a governor tell us who the prisoners are and why they are inside. We hear what happens inside, and outside, and the stories are shocking. The system is broken and nobody inside or out, innocent or guilty perpetrators or victims is being helped.
The screening will be followed by a discussion and Q&A with the director.