InitiativeTO

Wednesday, November 17, 2010 from 9:30 AM to 10:00 PM (EST)
Event Details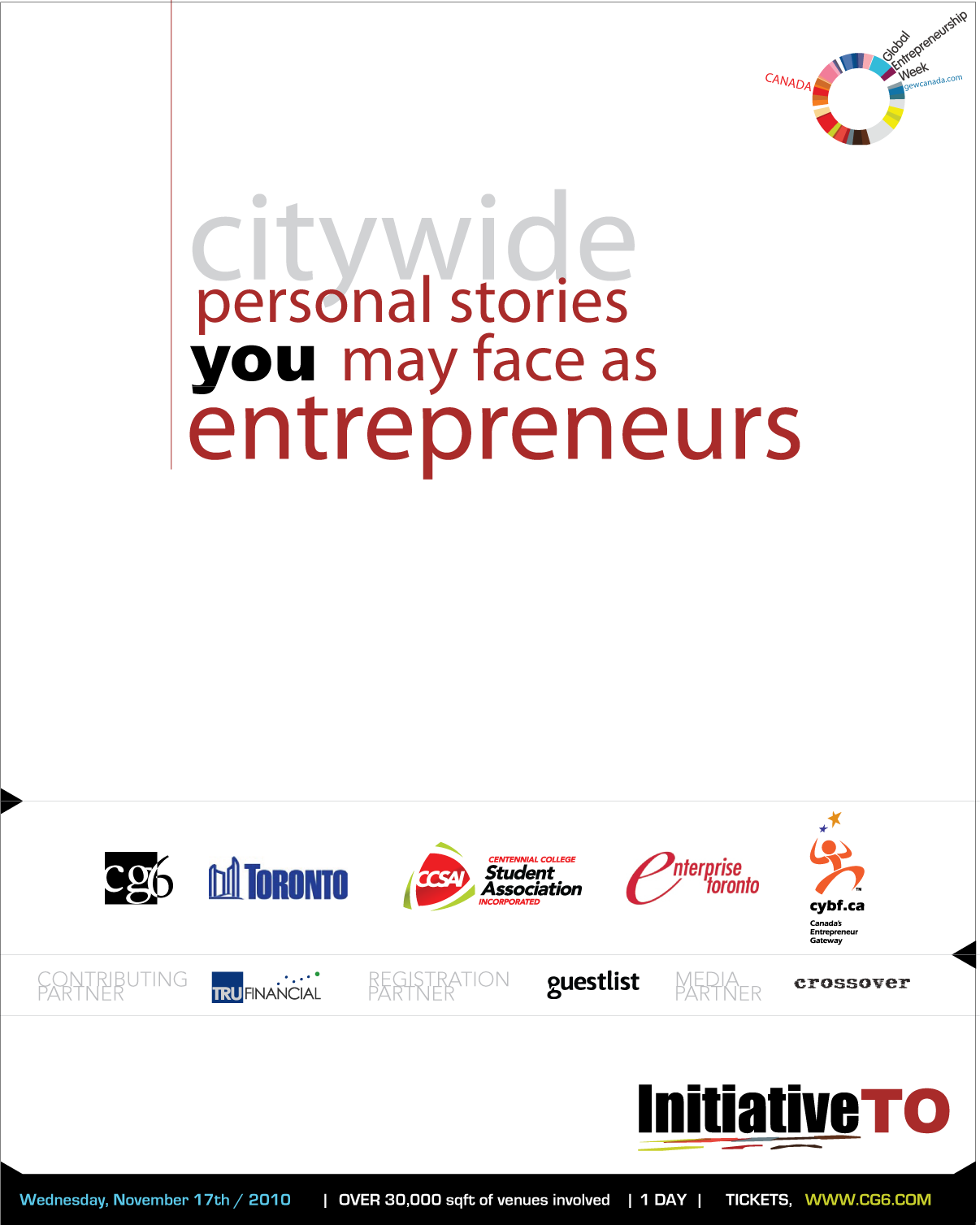 Twitter: @Cg6Inc | Hashtag: #Initiative10

Wednesday, November 17th, InitiativeTO - A citywide initiative of social connection; promoting entrepreneurship, enterprise and social cause to aspiring entrepreneurs on the challenges they may face of being an entrepreneur by entrepreneurs themselves. The effort consists of lead discussions, engaging workshops and local business tours.

InitiativeTO is in part of Global Entrepreneurship ...Week, hosted and managed by Cg6 Inc; a lifestyle media relations agency socially focused to promote entrepreneurship to creatives and aspiring markets through socially engaging programs, partnerships and placement.

InitiativeTO is a first time 12-hour event consisting of more than 17 entrepreneurs and industry professionals sharing personal stories of challenges they have faced in their career path, 6 seriously fun; down-to-earth life experiencing workshops and up-to 25 businesses taking part in industry tour spawned by venues of social connection ranging from Etobicoke, Junction, Dear Park District, Riverdale and Scarborough.

Event Detail > Formats & Requirements

Speaking: Formats
➢ Lead Discussions, 40 minutes followed by 15 minutes Q&A
➢ Engaging Workshops, 90 minutes followed by 10 minutes Q&A
➢ Local Tours, 20 minutes followed by 5 minutes Q&A

Venue: Contributors
➢ Scarborough Civic Centre
➢ Iconica Communications, 55 St. Clair West
➢ The Armoury, 201 Weston Road
➢ Longbranch Coworking, 3299 Lake Shore West
➢ Toronto Model Photography, 1840 Danforth
➢ Gafas, 561 Queen West


Event: Supporters
➢ CYBF
➢ City of Toronto
➢ Enterprise Toronto
➢ Impact Entrepreneurship Group
➢ Centennial College Student Association, Inc.


+++

Event: Stories From (last updated, Nov 8/10)


Anfernee Chansamooth
➢    "Follow your heart and you can't go wrong" is the guiding principle and coach to Anfernee's work. His life work involves teaching people how to live and communicate authentically, dream big and enjoy your every being and every step of the way.

Cheryl Renkin
➢    Business consultant, a trainer and what you could easily portray a sales guru. Cheryl adds the muscle to your marketing advantage and tightens up your budget for a healthier and a more fitter YOU.

Elysabeth Fischer
➢    Can you say passion is her game or a natural occurrence. Using a 3600 approach to business success, Elysabeth shows you how to win in a business by integrating personal and business health from a marketing and sales, events and public relations standpoint. Her expression is an accomplished facilitator, lecturer and writer; clearly communicated to her intended audience.

Fatima Omar Khamissa
➢    A recovering doormat, after 21 years of experiencing marital abuse, front loaded by 5 children and a special needs kid; Fatima had enough and made it a life calling to educate and empower women to find a voice. A single mother with 5 children and special need later, Fatima is makes a difference…

Jim Pagiamtzis
➢    Mentorship, a tool of guidance; resource – the ability to know and share. Jim puts his foot forward when he communicates and engages with entrepreneurs, corporate professionals and consultants. You could say mentorship is his business and he makes you better at it. And as such, his efforts has put him forward in front of Enterprise Toronto, Trios College, Centennial College and Monarch Park Collegiate.

Kristle Calisto-Tavares
➢    A mighty social entrepreneur and a people hugger. YES, there is such a thing. Kristle inspires people for a living. She informs and empowers others to build a better world to take businesses and non-profits to locate strategies and tools for conscientious and sustainability.

Laur Fisher
➢    Love the saying: if opportunity doesn't knock, build a door.  Originally from the United States, Laur moved to Toronto in September 2010 with no job and very few connections.  A year later, she found herself self-employed as a Sustainability Consultant and recently hit the ground running as a serial social entrepreneur.  It amazes even her, but currently she holds three businesses, with two more in the works. It is, beyond doubt, the most fulfilling and exhilarating journey of her life.  It would be her honor and privilege to share jer story in breakdowns and breakthroughs.

Marc Bauche
➢    An International entrepreneur, an ex-business owner knows too well what most entrepreneurs miss when running their own business. Marc focuses and shares his experiences from the streets of Philippines; the gateways of Germany; the towers of Singapore and from our own backwoods of British Columbia.

Marc Gordon
➢    An entrepreneur from the age of 16, he took each moment given to him as a skill set to mask his abilities. Former owner to a glass repairing service, sold to a national distributor; Marc used his earnings to open up an entire new line of capabilities. A marketer, a host and an author.

Marilyn Garshowitz
➢    Toronto born and raised, witnessed firsthand the problems of bullying and misuse of power both in her personal and professional life. She has held a variety of reflective positions. Her experiences had her witness the legal system in Canada.  Enduring several personal set-backs to her well-being she was motivated to learn further on the system and its psychological makeup.  About making negative, positive, and finding solutions, Marilyn persevered through great adversity and wrote and published her book to expose the system. Marilyn now pushes forward an organization, book in tow, to educate on the systemic problem of bullying and misuse of power.

Mimi Lee
➢    Life is a message, determination is its carrier; while experience is its path. Mimi's background is not only unique but versed with the titles of accomplishments. Once a News Editor, a Publisher, a Journalist, a Radio News Correspondence is now an accomplishing Financial Advisor; a single mom with a story to tell…

Natalia Kantor
➢    Defining oneself is a trip, a journey and like most, Natalia has gone through a HUGE journey of her own; from the professional to the personal; from the individual to life. Her journey has made her stronger as an entrepreneur and a guide. Truly resourceful as she journeys across lands and waters from Burningman and the southern United States to England, Scotland, Ireland, Spain and Australia.

Scott Chapman
➢    His career began with a genuine enthusiasm for all things Branding and marketing. In 2005, Scott joined Procter & Gamble; the company credited for inventing Brand management. In less than 3 short years, he became the Business Manager leading the strategy and marketing for billion-dollar Brands including Bounty and Tide. In an effort to expand and diversify his skills, Scott joined PepsiCo, succeeding to the role of Beverages Marketing Manager, Food Service. In less than a year with PepsiCo, Scott led the operating plans and Brand management for over 15 different PepsiCo beverage Brands in the highly competitive food service industry.

Tm Mahdi
➢    It's hard a to believe but in so many respects the quietest one in class is usually the most accomplishing in life. Though Tm does not feel he was filled that role entirely, he has made it a life mission to become an Interactive CV. Currently, an Art Director and Publisher to Canada's Entrepreneurial Design Publication; Tm puts forward a self discovered life goal to make creatives better professionals. He's the mastermind and organizer behind this city's most engaging socially rewarding; out of pocket and educating events. 6-8 a year to be exact.

Vitaliy Babiy
➢    What started out as an internship position at one of the dream places by most graduates, The Coca-Cola Company got him to work at the most prestigious, respected and known foundations across the United States, Ukraine and Canada. Vitaliy, a Chartered Accountant by trade, certified with his methods taught by leaders that made him who he is today.

Vivianne Gauci
➢    A hard worker is not the underling statement to the success and responsibility of Vivianne's accomplishments. You probably have experienced one of her many corporate releases to date from respected companies like, Aviva Canada; PCFinancial and American Express. And now sits as a consultant catering to businesses and marketing leaders growing their organization to their fullest potential.

Vwodek Wojczynski
➢    We are told that to be good in business means being tough – like a shark. To succeed you need to get an MBA and then hope (maybe pray?) that one day you will make it out of the tens of thousands of MBAs in the world. As a society we are telling young people to value theory over experience, individuality over team-work, and 'getting a job to make a living' over entrepreneurship. We are told that business is hard. Everybody "knows" this is "the immutable truth" of the business world. Well, the fact is, Vwodek is here to tell you differently. Business is not what you think it is.
+
2 Special Closing Note Speakers
Eric Bernhard, Fundation & Daily Red
Hans-Jorn Eich, Ukoonto

SPOTS ARE LIMITED.
don't wait on the registration.
http://bit.ly/d6qECK
When & Where

InitiativeTO - Citywide

Toronto, Ontario
Canada

Wednesday, November 17, 2010 from 9:30 AM to 10:00 PM (EST)
Add to my calendar
Organizer
Iconica is about innovation and lots of it. A strong believer to strategic branding and management of organizations where success goes hand in hand. Honed with talents and focused in the clients well-being, truly utilizing modern marketing techniques, strategies and ideas behind any budget.
+1416.921.7484
Cg6 Inc. is a media noted lifestyle media relations agency. Socially focused to promote entrepreneurship to creatives and aspiring markets through socially engaging programs, partnerships and placement.
The organizing founders of Design Guild of Toronto and the publishers behind a subscription based entrepreneurial publication for the creative mind - crossover magazine.
+1416.238.6881