Initialzündung "Haus der Materialisierung"
Description
Im Gebäudekomplex Haus der Statistik entsteht ein zentraler Ort für Reuse, zirkuläres Wirtschaften, Reparatur und Experiment - das Haus der Materialisierung. Das ist die angedachte Nutzungen des mittleren Flachbaus (Archiv_E).
Am Dienstag, den 7. Mai, sind alle interessierten Akteure der Reuse-Szene eingeladen, mehr über das Projekt zu erfahren und an der Planung und Umsetzung eines "Haus der Materialisierung" mitzuwirken. Dazu sind eine Besichtigung, kurze Inputs und thematische Gruppenarbeit vorgesehen. Nach dem Programm gibt es die Möglichkeit, ein entspanntes Get Together zu genießen.
Diese Veranstaltung richtet sich vor allem an interessierte Pioniernutzer*innen, die sich in den Themenfeldern Materialkreisläufe, Zero Waste, Up-Cycling und solidarisches Wirtschaften bewegen.
Wir versammeln uns am Eingang des Flachbaus, an der Ecke Berolinastrasse und Haus der Statistik (nachfolgende Karte).

Zeitplan:
15:00 - 15:45: Vorstellung aller Anwesenden + Besichtigung des Gebäudeteils
15:45 – 16:30: Impulse:
- Über die Initiative und die Nutzungsperspektive für Archiv E
- Erste Überlegungen für ein "Haus der Materialisierung"

- Hauptergebnisse des CURE pathfinder Projekts
16:30 - 17:30: Interaktiver Workshop mit diverse Themen in 4 Gruppen:
- Gebrauchtmateriallager
- Workshops und Veranstaltungen
- Offene Werkstätten / Upcycling
- Organisation und Kommunikation
17:30 - 18:00: Workshop-Ergebnisse Nächste Schritte
Extra Aktivitäten: Bridging circular economy and construction

Ab 18.00 Uhr öffnen wir die Tür für alle und geben die Möglichkeit, ein historisches und ikonisches Gebäude Haus der Statistik zu besuchen für alle, die es noch nie zuvor getan haben. Deshalb organisieren wir eine weitere Tour durch Gebäude in Englisch, wo Sie weitere Gelegenheit haben, Ihre Fragen zum Projekt Haus der Statistik zu stellen und mehr über das Thema Circular Construction zu erfahren. Nutzen Sie diese Gelegenheit, um sich mit den Organisationen zu treffen und zu chatten, Fragen zu stellen und Gedanken auszutauschen!
18.30: Doors open
18.45 - 19.30: Visit and discussion:
- Short intro to the Haus der Statistik initiative
- Circular Construction in Berlin
- Ideas for future use

19:30 - Open end: Further exchange and networking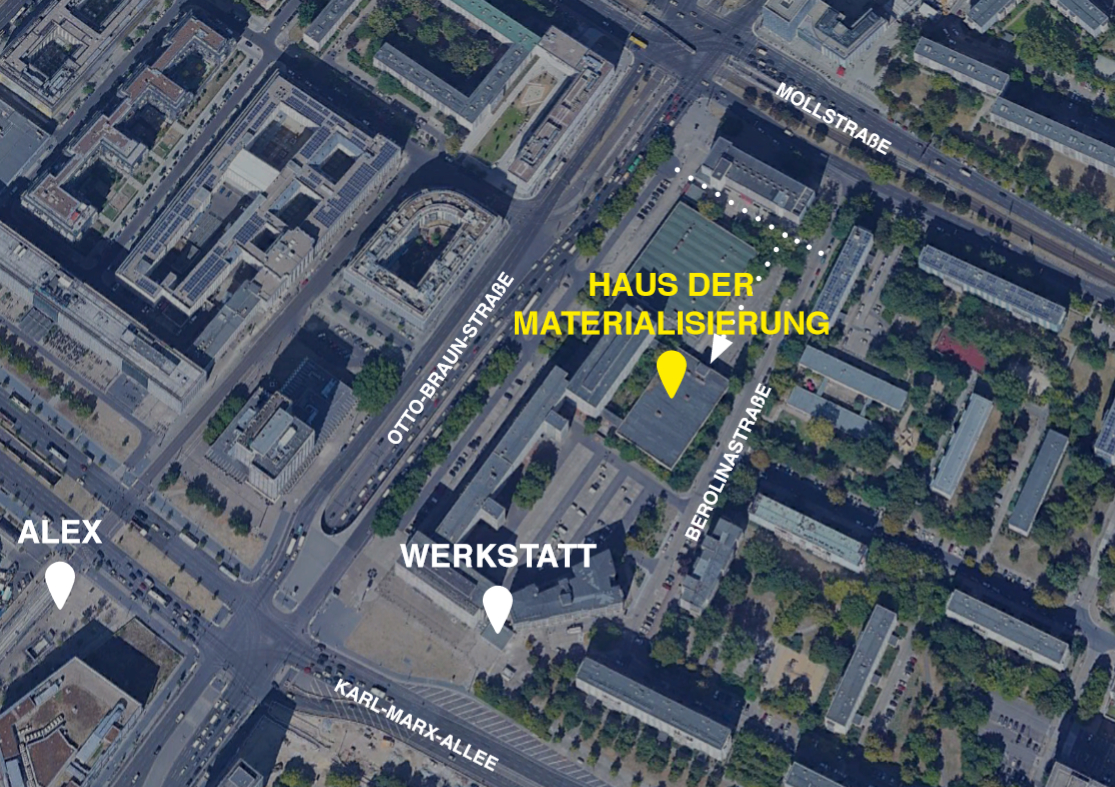 Mit freundlicher Unterstützung durch Re-Use Berlin, eine Initiative des Berliner Senats für Umwelt, Verkehr und Klimaschutz.