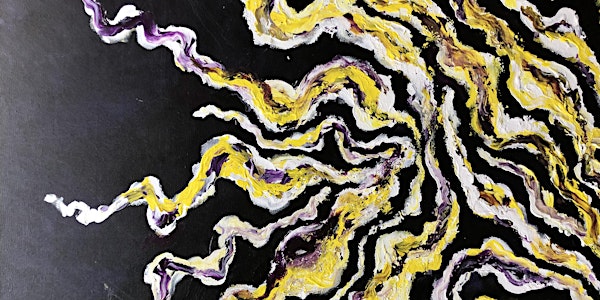 Inhale...Now Exhale // Opening Reception + Exhibition
When and where
Location
Spaceus 11 First Street Cambridge, MA 02141
Description
Inhale, Exhale: A Solo Exhibition of Nada Shuaib
March 16th - March 20th
Opening Reception: March 16th, 6:30 - 9:30
Artist Statement:
I am from Sudan, Saudi Arabia and the United States. As a global nomad, the journey of identity is an ongoing process. My identity is not from one culture, one experience, or one place, it is a fusion of cultures, homes, memories, and people that I carry with me. Recently, I have entered a pivotal stage in my life where I am reflecting and projecting on the space that I occupy. In this exploration, I find myself constantly struggling to grasp my current reality which lies on a narrow ridge between physical and metaphysical forms.
Using my Third Culture Kid identity as a platform for this body of work, I attempt to discern my life experiences through a self-created deep breathing of light manifesto. Each art piece conveys an emotional state through colors, materiality and gesture. For me purple is a symbol for inhaling, subtelity, challenges, hardest goodbyes, and feelings of not belonging, and yellow is a symbol for exhaling, clarity and hope. Inhales vs. exhales, shadow vs. light, purple vs. yellow, beginnings vs. endings; each dichotomy represents the tension that stimulates my curiosity and fuels my journey of self-discovery.
During the opening reception, Shuaib will give a walkthrough of the exhibition and artistic process starting at 7pm.
The suggested donation for this event is $5 - $15. You can make donations through Eventbrite or during the event.
The exhibition will be open during normal Spaceus hours which are: Monday - Friday: 12 - 7pm and Saturday - Sunday: 12 - 4 pm.
Image by: Nada Shuaib