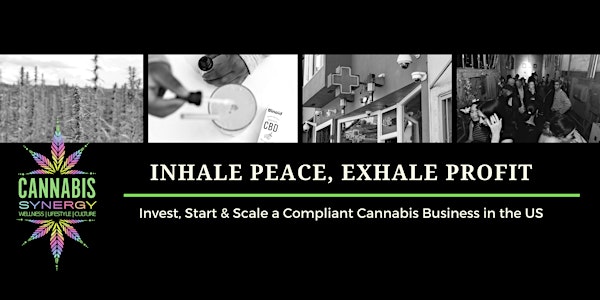 INHALE PEACE, EXHALE PROFIT
Invest, start and scale a compliant cannabis business in the US.
Date and time
Tuesday, June 30, 2020 · 4 - 6pm PDT
Refund Policy
Contact the organizer to request a refund.
Eventbrite's fee is nonrefundable.
About this event
About this Event
Inhale Peace, Exhale Profit is an interactive training program aimed at discussing effective business strategies to new and established entrepreneurs who want to stake their claim and invest in the burgeoning multi-billion dollar legal cannabis industry.
As the world moves into mid-2020, cannabis is moving right along with it. The cannabis market is becoming more and more normalized in the global economy and American culture. To date, 47 states and the District of Columbia have legalized marijuana in one form or another, and 6 in 10 Americans back full marijuana legalization.
Despite still being an illegal substance under federal law, cannabis is quickly becoming one of the fastest-growing industries in the U.S. With that kind of growth, it's only logical that a huge need for cannabis investors, new entrepreneurs and professionals would follow.
Many Pan-Africans and minorities across the country have been excluded from opportunities in the burgeoning industry due to a lack of access to capital and systematic economic racism.
Synergy's mission is to provide and cultivate economic opportunities for African Americans who represent less than 1% of the compliant cannabis industry. Synergy believes in promoting responsible business practices, cannabis wellness, and community cultural lifestyles that not only educate but create an environment for African American Canna-Curious Participants to thrive.
Inside the Inhale Peace, Exhale Profit Master Class:
Overview of the Current Legal Cannabis Industry Landscape
Regulatory and Compliance Synopsis
Licensing and Permits Walkthrough
Mark and Entry Point Analysis
Unique Challenges and Opportunities for POC
Whether you're brand new to the industry, an investor, established and ready to grow, or simply canna-curios, the Inhale Peace, Exhale Profit Master Class will provide you with valuable insight to help you better understand the current legal cannabis landscape. Johann Balbuena, founder of Cannabis Synergy, cannabis licensing and compliance expert, and business consultant will provide you with a unique approach to understanding the dynamic cannabis space, its risks, and opportunities. The program is designed to help POC to discover, establish, and leverage their unique positioning in cannabis in order to attain sustainable success by strategically placing capital in the cannabis space.
REGISTER TODAY!
About Johann Balbuena
Johann Balbuena is a commercial cannabis licensing acquisition and compliance management expert, business consultant, and content creator. She is a self-made entrepreneur with extensive experience in the cannabis space. In addition, Johann leverages existing networks, relationships, and resources by intentionally cultivating, as well, identifying and creating opportunities in the legal cannabis space for people of color. Johann is a former member of the US Military and is currently licensed for compliance advisory in the State of California.
About Synergy
Synergy provides business consultancy, high-quality engaging content, and experiences combining multi-sensory, in-person & VR for the cannabis space. Our vertically integrated business model strategically leads and elevates purpose-driven entrepreneurs and canna-curious participants to create a global impact in the cannabis industry.
About Sheba Venture Partners
Sheba Venture Partners Mission is to connect and share valuable business resources, including capital funding to under-resourced, creative, highly talented, innovative groups around the world.