Description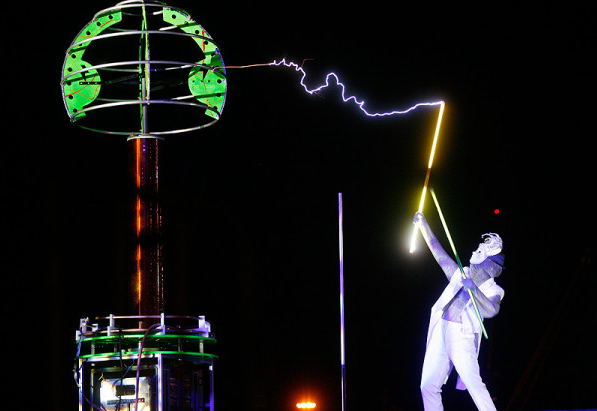 Temple of Tesla fills a vast unmet need by bringing together original music from around the world, dance, theatrics, and giant indoor lightning bolts. Experience the power of Temple of Tesla as giant Tesla coils emit a dazzling array of light and sound inside the Masonic Auditorium.
Buy tickets online or call 216.589.9444
Tickets $20 in advance / $25 at the door. Special student rate $10. Enter 'ingstudent' when purchasing. Bring ID to door.
Ingenuity Cleveland is teaming up with the Tesla Orchestra to create Temple of Tesla, Saturday, June 11th at 8PM located at the Masonic Performing Arts Center, 3615 Euclid Ave., Cleveland, OH, 44115 This unique event will feature original music selected from an international competition played on lightning bolts ranging from 12 to 15 feet in length emanating from two indoor Tesla coils. Temple of Tesla will also feature performances by The Blue Ribbon Glee Club, a Chicago-based a capella group performing covers of classic punk rock songs.

"This performance will be an intense experience in terms of both sights and sounds," said Ian Charnas of The Tesla Orchestra. "This is a rare opportunity to hear music written specifically for tesla coils and also to experience it within the Cleveland Masonic Performing Arts Center which is an amazing venue. In fact, it is one of the only venues that was large enough to accommodate the indoor lightning show we'll be giving the crowd."

Music for this event will be sourced from The Open Spark Project which is taking place throughout May 2011. Composer and musicians will be able to submit works online and then, on May 14th see and hear their performances via a live video feed online. The best of these works will be presented at the Temple of Tesla event on June 11th.

Tickets for Temple of Tesla will be $20 in advance or $25 at the door. Tickets can be ordered online at www.ingenuitycleveland.com or by calling 216 - 589 - 9444. The Masonic Performing Arts Center is located at 3615 Euclid Ave., Cleveland, OH, 44115.

More information: www.ingenuitycleveland.com
www.teslaorchestra.com
www.opensparkproject.com
www.blueribbongleeclub.org