Location
Ingenuity Cleveland
IngenuityLabs @ The Hamilton Collaborative
5401 Hamilton Avenue
Cleveland, OH 44114
Description
Support Ingenuity Cleveland at our Annual Fundraiser Bal! This year's event is the Time Traveler's Bal - a magical journey for the ages!

Saturday, June 16, 2018
8:00 PM - 1:00 AM
IngenuityLabs at The Hamilton Collaborative, 5401 Hamilton Avenue, Cleveland, Ohio, 44114

Event is 21+.
Ticket information:
General presale ticket (includes entry and food): $25 + $2 Eventbrite Fee
General door ticket (includes entry and food): $35
VIP presale (partically tax-deductable, includes entry, food, tour of the Hamilton Collaborative and 2 drink tickets): $65 + $3 Eventbrite Fee [$30 is tax-deductable; tours will leave at 8:15; tours involve stairs; sturdy shoes are recommended]

Calling all who are brave enough to venture beyond time and through space: The Time Traveler's Bal is a not-so-fancy–and slightly off-kilter evening - an unforgettable opportunity to celebrate our past and sustain our future in support of our year-round programming and IngenutyFest 2018: FuturePast, September 28-30.
IngenuityLabs, the Sixth City's foremost space for inventors, Ingeneers, and intrepid itinerants, has suffered the explosion of a homemade time machine, opening portals to the Future and the Past! Pick your way through the frozen remnants of the last ice age, duck around mega flora and fauna of the late Carboniferous, and the steaming remnants of Earth's volcanic beginning. Wear goggles and boots, spacesuites, corset and gloves, or whatever finery and accouterment best prepare you for a journey through the ages.
Our annual Bal unites artists, makers, entrepreneurs, and performers in the creation of a unique landscape that traverses time and space through interesting themed enclaves to explore, art, music, dance, and fabulous food.
Our 2018 theme, FuturePast, celebrates the return of cherished traditions melded with the drive toward a reimagined future. It represents a homecoming in many ways: we reawaken our home at a former-industrial facility with new art and manufacturing, whimsical ideation, and a hum of imagination from the many artists, inventors, and renaissance (wo)men who call the Hamilton Collaborative home.
What should you expect? Some of our favorite artists and partners, new and old, will be participating and performing!
Vertical Dance Sneak Peak: Missed "Leaping Off the Wall" last year at IngenuityFest? Get an exclusive preview of the Ingenuity/MorrisonDance partnership and creative process, which will be reprised in 2018!


Our newest IngenuityLabs member Madeline Finn (of Whiskey Hollow) will perform; catch her music entrepreneurship classes starting at IngenuityLabs this summer!


Ingenuity favorite In2ative (cello and flute), Stephan Haluska Harp, and Brian McCoy, the Hurdgurlder will bring their unique interpretations of timeless instruments


Performances and Improv from Maelstrom Collaborative Arts, Pirates of the Rusty Cutlass, Shanty Circus Jacrobats, Fire and Light Performing Arts, plus belly dancers, magic and more!


Dance party by the Unplanned Crew will keep us groovin' till late at night!


Small bites by local restaurants, and beverages by hometown favorites Platform Beer and Watershed Distillery!
Follow us on Facebook and check our website for updates!
Thank you for your support, and we look forward to journeying through time together!
Parking is available in our lot at 5401 Hamilton Avenue, right across from the event entrance. Our lot is fenced, but as always, parking is at your own risk.

We make every attempt to ensure that our event is accessible to all audience members. Event attendees should be aware that artistic events held in our former industrial space can include some areas of uneven flooring, rough surfaces and low lighting. We recommend all patrons wear sturdy shoes (suitable for time travel, of course!), and dress with the understanding that the IngenuityLabs warehouse can get quite warm or cool, depending on the weather.

We provide ADA parking off the 53rd street entrance to our event - Attendees can simply notify our greaters at our 5401 Hamilton entrance to be shown alternate accommodation, or reach out in advance to discuss any concerns. Please contact Hannah at hannah@ingenuitycleveland.org, or by calling (216) 527 - 8767.

Sustainability is very important to us, and we strive to make all of our events waste free by using compostable servicewear and partnering with Rust Belt Riders. Please consider the environment in making your costume: we recommend Upcycle Parts Shop.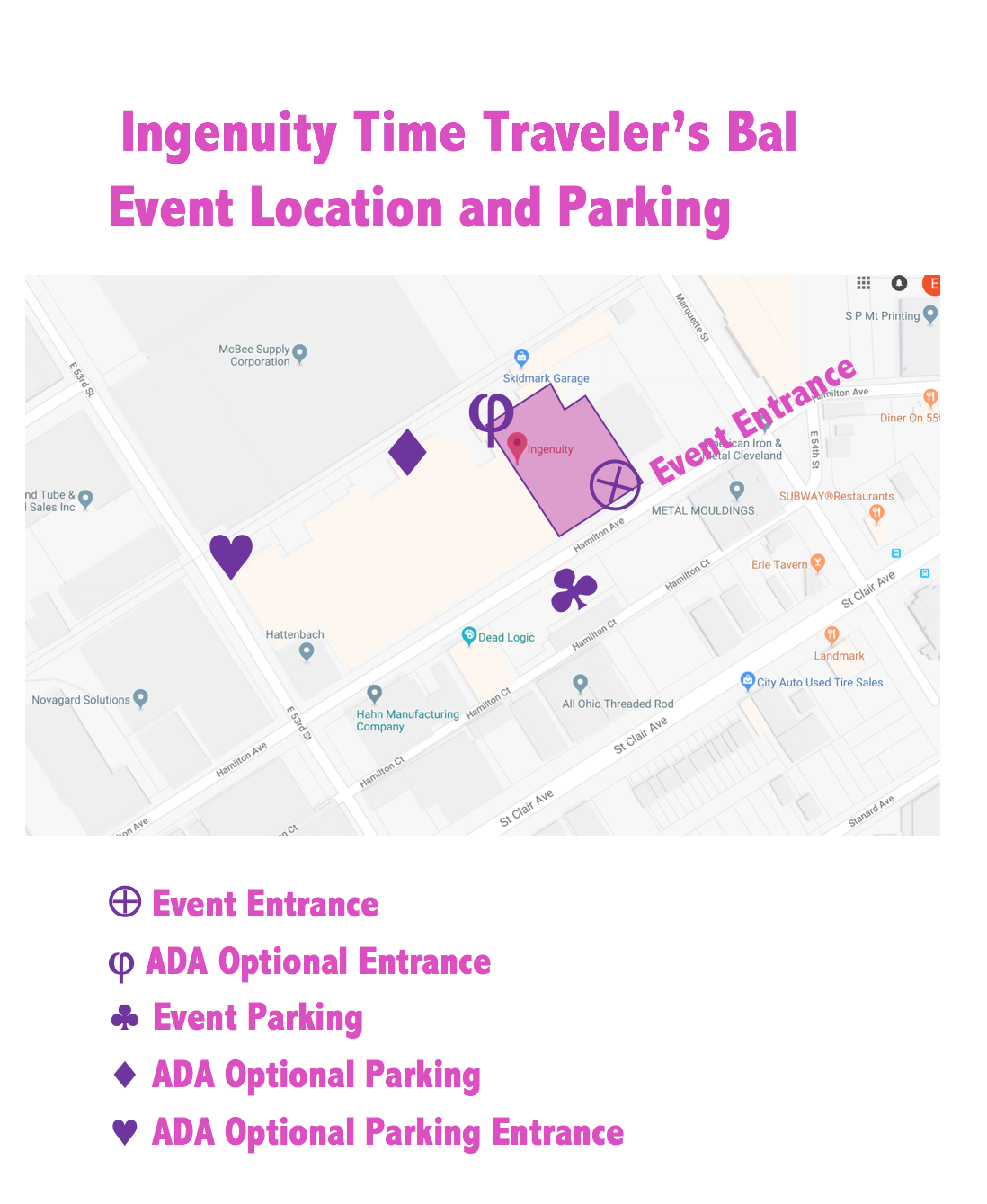 Ticket holder recognizes and acknowledges that by attending the Ingenuity Time Traveler's Bal, he or she may be engaging in activities that involve risk of serious injury. Ticket holder voluntarily assumes all risks in attending the event, whether occurring before, during or after the event, and releases Ingenuity and/or the venue and its agents from all related claims. This event is a music and arts festival held in an industrial space and may have uneven flooring and other potential hazards and inherent risks associated with such events, including having perspectives challenged and minds expanded. Ticket holder grants permission to utilize the holder's image or likeness in connection with any photograph, video or other recording means for transmission, broadcast or promotional use on any media.