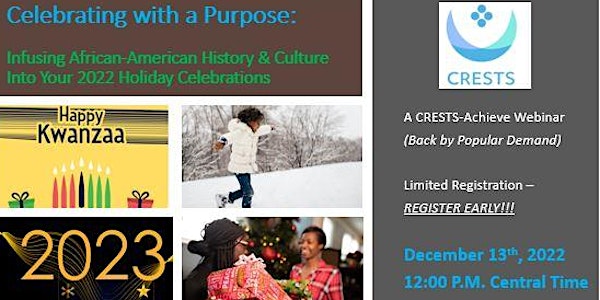 Infusing Black History & Culture into Your Holiday Celebrations (Part II)
This interactive training experience will demonstrate strategies for infusing Black history and culture into holiday celebrations!
About this event
The November/December 2022 holiday season will soon be upon us, and we will begin planning our holiday activities. For educators, parents, and clinicians of Black children, this is a perfect time to engage in activities aimed at enhancing Black children's racial identity by infusing Black history and culture into their holiday plans! In this FREE, virtual, training session; Dr. Cirecie West-Olatunji and Dr. Constance West will teach simple, fun, and evidence-based interventions aimed at enhancing Black children's racial identity development, emotional well-being, and academic performance. These interventions will target the following areas: culture-centered decorations for the school, home, and/or clinical setting; gift ideas; activities with children (and their families); and resources. Like last year's version of this innovative training session, it is designed to be HIGHLY INTERACTIVE (with a limited number of participants so that they can SHARE their favorite examples in a meeting format). In addition, this session will include musical selections by a guest artist. Join us, and be prepared to "show and tell" regarding your favorite culture-centered holiday activites!