Infuse Your Booze (or Vinegar) with Maryland Mead Champion Julie Biedrzycki
Learn to craft your own herbal infusions for medicine and pleasure with Maryland Champion mead-maker Julie Biedrzycki
About this event
Local County and State Fair Mead and Wine-Making Champion Julie Biedrzycki is a master of alchemy. Her brews never fail to delight the palate, inspire joy, and lift the spirit while centering the body and the gifts of highlighted plants.
In this workshop, Julie will share her philosophy of celebratory connection and engaged collaboration with our plant relatives by demonstrating the creative process she uses to select flavor combinations for nourishing, healing, and uplifting infusions, along with abundant stories of growing, living, and learning with plants.
Touring The Green Farmacy Garden and surrounding grounds, Julie will introduce several wild and garden plants that can lend excellent foraged flavors to your own concoctions. Bring a jar of an alcohol or vinegar (*see recommendations below), and Julie will help you select herb combinations to infuse into your solvent, according to your personal goals.
Please also bring a basket or paper bag for collecting fresh plants, kitchen shears to process them, and a spoon for stirring and tasting your creation.
Sliding scale admission is available to participants for whom the general rate is inaccessible. Email Veri at greenfarmacygarden@gmail.com to inquire.
Participants must wear a well-fitting mask covering mouth and nose when using indoor restroom facilities, and outdoors when closer than 6' to any community member whose comfort requires it - regardless of vaccination status.
Please bring a snack in case hunger strikes, and feel free to step well away from the group and remove your mask to nourish/ hydrate your body as needed. Don't forget your notepad and writing instrument if you're inclined to take notes!
*Vodka is one of the most commonly used solvents for extracting medicinal and flavor components of herbs. Most other alcohols have more of their own flavor so may overpower that of some herbs (think gin). You can use any unflavored (and unsweetened) drinking alcohol with minimum ABV 40% (80 proof).
*Apple Cider vinegar is commonly used for herbal infusions, though it has more flavor and color of its own than, say, a white wine or rice vinegar. Balsamic vinegar is not recommended!
A plethora of Jim and Peggy Duke's publications and assorted hardy and tropical plant species will be available for sales supporting The Green Farmacy Garden, as well as merchandise supporting Ancestral Knowledge, the local non-profit over whose board Julie presides.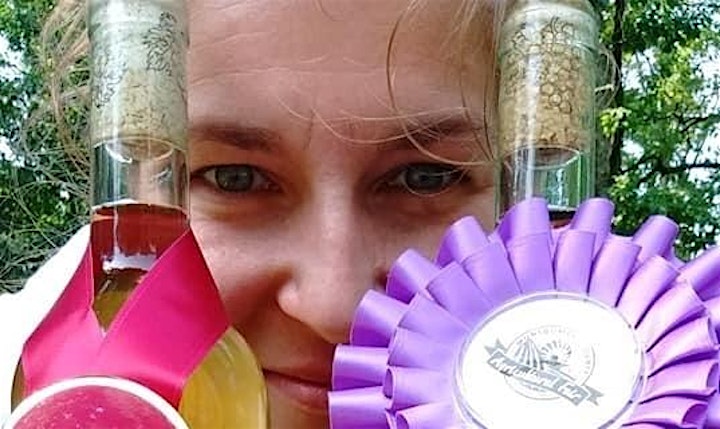 Organizer of Infuse Your Booze (or Vinegar) with Maryland Mead Champion Julie Biedrzycki
Located in Fulton, Maryland, The Green Farmacy Garden is a sanctuary for approximately 300 native and non-native species of plants that have been used traditionally and/or researched for medicinal applications. USDA botanist James A. Duke, PhD, and his wife, Peggy, collected medicinal plants for over sixty years.  In 1997, they transformed part of their pasture land into a teaching garden highlighting the plants that are featured in Jim's book, The Green Pharmacy.
The Green Farmacy Garden is also a part of the United Plant Savers network of sanctuaries around the country, which strive to educate the public and maintain native plant species that have become at risk or endangered.
Since the garden is located on a large parcel of land, we are always in need of volunteers to help. We are also receptive to students who wish to work on independent projects with medicinal plants.
Tours to the public are on scheduled days or by appointment.