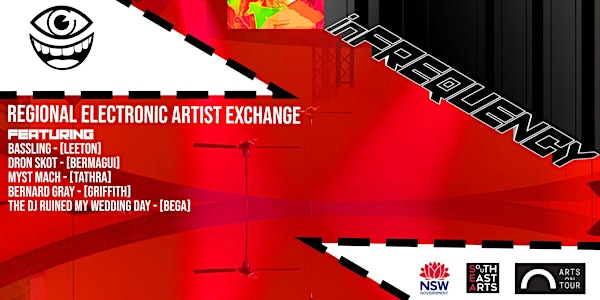 inFREQUENCY
inFREQUENCY - Learn in the day and dance in the night. Featuring five cutting edge electronic artists from across NSW.
When and where
Location
Yanco All Servicemen's Club 11 Main Avenue Yanco, NSW 2703 Australia
About this event
inFREQUENCY is a regional electronic artist exchange with artists from the SOuth Coast and Western NSW coming together to share skills and singe eyebrows with cutting edge electronic music performances and visuals.
When buying your ticket you can choose a workshop only or night performances only or do the right thing and get a discounted bundle for both events!
Tickets
DAY Workshops: $15/$10 concession
NIGHT Performances: $20/$15 concession
DAY&NIGHT Deal: $25/$20 concession
Featuring
Bassling from Leeton NSW
Dron Skot from Bermagui NSW
Bernard Gray from Griffith NSW
The DJ Ruined My Wedding Day from Bega NSW
MystMach from Tathra NSW
Day Workshops:
Video Projection Mapping Workshop -
Get hands on experience of the live video projection mapping experience as an introduction to video projection mapping and Vjing. Participants will learn about different types of projectors, technical terminology such as throw distance and lumens and how to choose the right projector for projects. Site selection, safety and installation will be addressed. An introduction to various software including open source and free digital tools will be provided in an interactive and engaging way. This workshop will show how to develop and present a live video projection event.
This workshop will suit students with interests in any of the following: Visual Arts, Graphic Design, Audio Design, Music Writing/Production, Music Theory, Mathematics, Programming, etc
Age guide: 12 and above
Skill Level: basic computer skills required (can use a web browser)
Equipment required: Bring a notepad and pen, all other equipment provided.
Livecoding Audio and Visuals Workshop -
Take a dive into the future of improvised electronic music and visual generation using Livecoding interfaces with Bernard Gray (aka cleary).
You will learn to create incredibly detailed audio and visual pieces on-the-fly, both as a solo performer or collaboratively with other artists in real time using simple commands in a free and open Livecoding environment.
This is an incredibly unique opportunity for Australians to get introduced to a scene that is blowing up in the northern hemisphere, with huge groups of artists, developers and experimentalists organising events in Germany, UK, US, India, Mexico, The Netherlands and more.
This workshop will suit students with interests in any of the following: Visual Arts, Graphic Design, Audio Design, Music Writing/Production, Music Theory, Mathematics, Programming, etc
Age guide: 12 and above
Skill Level: basic computer skills required (can use a web browser)
Equipment required: Laptop computer, headphones