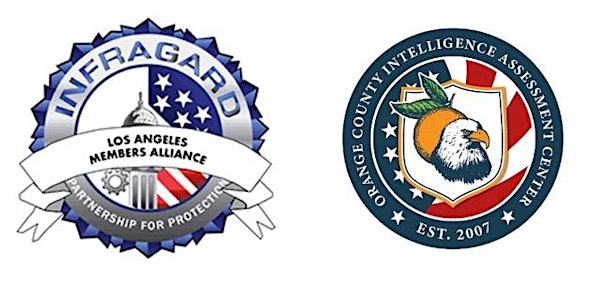 Infrastructure Liaison Officer (ILO) Course
Infrastructure Liaison Officer (ILO) Course
By Los Angeles Infragard & OCIAC
Date and time
Tuesday, June 21, 2022 · 8am - 12pm PDT
Location
Registration closes June 17th at NOON. Address Provided Upon Approval Irvine, CA 92618
About this event
OCIAC and InfraGard Los Angeles present:
Infrastructure Liaison Officer (ILO) Course
8-8:30am Sign-in and Continental Breakfast
8:30 - 12:00 pm ILO Training
The Infrastructure Liaison Officer (ILO) course has a history of Homeland Security success going back nearly fifteen years, combining the best practices and content specifically tailored to the InfraGard community and keeping our country safe from terrorism and other threats. It's about seeing something and saying something, but also about recognizing that something is wrong or suspicious so that reporting will spur public safety action to deter or thwart deadly plots and mitigate risk. The mission of the Infrastructure Liaison Officer (ILO) is to serve as a trained private sector conduit of information to their local public sector partners, in the protection of their company and community our Critical Infrastructure. The ILO course outline is as follows:
1. Introduction and Overview of the Course
2. Violent Extremism and Terrorism
a. Definition and Overview
b. Transnational Violent Extremism (i.e., Al Qaeda and ISIS)
c. International Violent Extremism (e.g., Hezbollah)
d. Domestic Violent Extremism (i.e., Anti-Government and Hate Groups)
e. Single Issue Violent Extremism (i.e., Environmental, Anti-Abortion and Animal Rights)
3. Critical Infrastructure Protection
a. National Infrastructure Protection Plan
b. Explaining the Sectors of Critical Infrastructure
c. Critical Infrastructure Protection Program
d. Explanation of InfraGard's Role and Responsibilities'
4. Homeland Security Intelligence
a. Explaining Intelligence (i.e., Community, Process, Cycle and Program)
b. Intelligence for Terrorism and All Hazards/Threats
c. Homeland Security Fusion Centers, FBI JTTF program, etc.
5. Special Topics
a. Cybersecurity
b. Red Team Exercise (classroom exercise) or Expert Panel Discussion
6. Final Review, Test and Graduation
INSTRUCTOR:
Hal Kempfer is the CEO and Founder of GRIP, Global Risk Intelligence and Planning Inc. in Long Beach, CA. He is a senior instructor and course developer for the Infrastructure Liaison Officer (InfraGard) course and a variety of other courses, workshops, seminars and Homeland Security exercises. The most prolific instructor on terrorism threats for the DHS sponsored fusion centers, Hal and his firm have also supported such notable organizations as the Center for Civil-Military Relations at the Naval Postgraduate School (now the Institute or Security Governance), U.S. Pacific Command's Joint Task Force Homeland Defense, the National Guard's National Inter-agency Civil-Military Institute, Navy Installations Command, etc. He has been involved in Homeland Security and consequence management planning issues in the military and civilian sectors for almost a quarter century, and is a frequently utilized as an on-air expert for ABC7 and ABC10 News in Southern California, ABC Network News, National Public Radio, various Fox News affiliates in the Western States, CBS News in San Diego, Cheddar/i24 and NewsMax.
TARGET AUDIENCE: InfraGard members, facilities management & front line team members, private sector security, Public Safety (Law/Health/Fire), Terrorism Liaison Officers (TLO's), Infrastructure Liaison Officers (ILO), Medical Liaison Officers (MLO's), stakeholders, and Studio/ PR / VIP representatives.
If you have any questions, please contact training@infragardlosangeles.org
Registration closes June 17th at NOON.
Registration requests made after this time will not be considered. All guests must register on Eventbrite and be approved by InfraGard Los Angeles. Unregistered guests may not attend. InfraGard Los Angeles reserves the right to cancel any registration at any time or refuse entry of any attendee.
Questions? Email IGLATraining@Infragardlosangeles.org