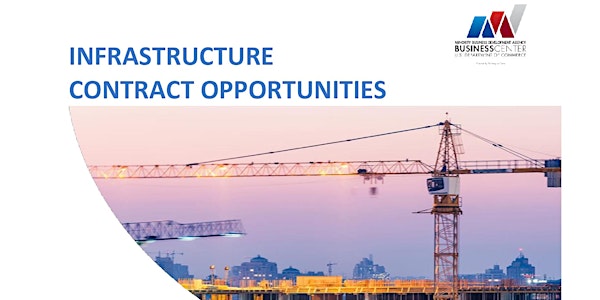 INFRASTRUCTURE CONTRACT OPPORTUNITIES
Understand the keys to winning infrastructure projects and how to get involved
About this event
The infrastructure bill allocates $550 billion dollars to various projects. Let's not get left behind. Please join us for this important Virtual Meeting where we will learn:
1.WHAT ARE THE KEYS TO WINNING INFRASTRUCTURE PROJECTS?
2.WHAT ARE THE TYPES OF PROJECTS TO BE AWARDED?
3.WHEN WILL INFRASTRUCTURE DOLLARS BE SPENT?
4.HOW DO I GET INVOLVED?
Invited Presenters include:
US Congressman Donald M. Payne, Jr.
Port Authority New York New Jersey (PANYNJ)
New York Building Congress (NYBC)
US Small Business Transportation Resource Center (SBTRC)
New Jersey Department of Transportation (NJDOT)
African American Chamber of Commerce New Jersey (AACCNJ)
AECOM
AMTRAK
Turner Construction
New Jersey Transit (NJT)
Metropolitan Transportation Authority (MTA)
Bravo Engineering
US Army Corps of Engineers
This project is brought to you by The NJ Minority Business Development Agency's (MBDA) Coronavirus Response and Relief (CRR) Center operated by The Enterprise Center of New Jersey, in collaboration with TreKnot Organization and KEI Marketing and Consulting and Mid-Atlantic Small Business Transportation Resource Center.