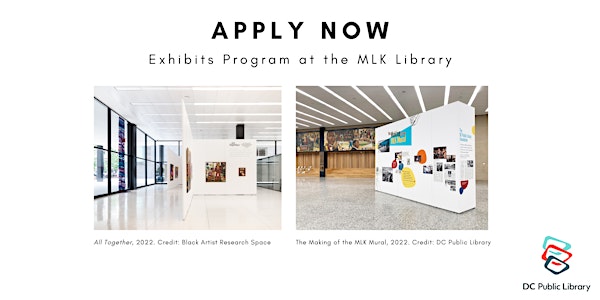 Infosession: Apply to the MLK Library Exhibits Program
Learn how to apply to have the MLK Library host your exhibition starting Summer 2023! Applications are due Friday, October 28.
About this event
The DC Public Library Exhibits Department is now accepting applications for arts and humanities exhibitions to be displayed in the Martin Luther King Jr. Memorial Library beginning in Summer 2023.
The DC Public Library celebrates art and exhibits as a source of learning, discovery, growth, and connection. The MLK Library hosts temporary exhibits in five spaces throughout the building, in order to highlight the history and culture of the District of Columbia.
This virtual infosession will cover everything applicants need to know before submitting their proposal for an exhibit at the Martin Luther King, Jr. Memorial Library, beginning in summer 2023.
For the application, visit dclibrary.org/exhibits/apply
Important notes:
The deadline to apply for next year's program is Friday, October 28, for exhibits scheduled Summer 2023 and later. The next deadline will be in April 2023.
The infosession will be recorded.
It is highly recommended that applicants review the Guide for Exhibit Applicants at this link and visit the MLK Library before preparing an application. Only complete applications will be considered.
Questions about the exhibit application process may be sent to MLKexhibits@dc.gov.
To request accommodations for this program, please contact the DC Public Library Center for Accessibility by email at DCPLaccess@dc.gov or phone at 202-727-2142.
Please note that we are not accepting solo art exhibitions at this time.