Description
Accelerate your Export Sales!
Join VEDP's 37.5 sq.m booth to exhibit your company's products and services at InfoSecurity Europe 2018 in London.
VEDP's booth next to the U.S. Pavilion is the ideal 'home base' while you walk the show and network with prospective customers and partners.
Enjoy the convenience of Virginia personnel in the shared booth at all times to take messages, greet visitors while you are away and connect you with relevant prospects.
Trade Show Details
Trade Show Dates: June 5-7, 2018
Trade Show Fee: $2,500 - This fee includes one attendee; additional attendees may be purchased above for $500 each. The fee does not include airfare, lodging, or meals.
Deadline to Register: March 30, 2018
For more information, contact:
Ellen Meinhart, International Trade Manager, at EMeinhart@YesVirginia.org or (703) 506-9742
What is included?
Each participating company will receive:
Entries in all official show exhibitor listings

A LCD screen in the booth to display your company's logo, video, or presentation via USB port.

A counter and stool in the booth to display marketing materials, product samples, etc. Each counter will have an electrical outlet.

A printed graphic on the booth wall featuring your company's logo or graphic of your choice

Access to shared booth furniture and U.S. Pavilion amenities. The Virginia booth will have a lockable storage closet and a small meeting table with chairs.

One exhibitor badge per registered attendee

VEDP assistance before and during the trade show
A
sample
rendering of the booth is provided below: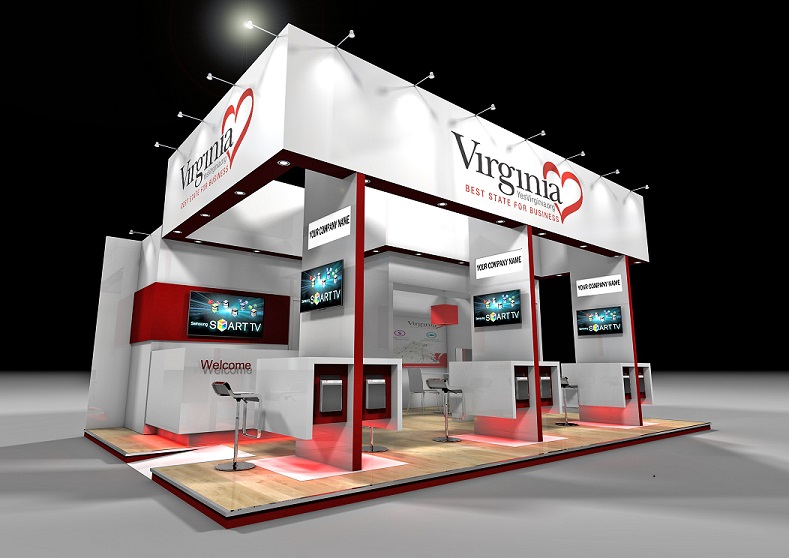 By exhibiting in the Virginia booth, each company and its representatives agree to the following:
Space and amenities within the Virginia booth, such as meeting tables and chairs, are shared among the co-exhibiting companies. Companies and individuals that are not co-exhibitors in the booth may not use these booth amenities, as they are reserved for the co-exhibiting companies.

Each representative is expected to be respectful of other companies' meetings, introductions, and/or networking that may take place in and around the booth. Interference with another company's meetings, introductions, and/or networking efforts is not permitted.
Thank you for your compliance with these guidelines as we represent the Commonwealth of Virginia in a courteous and professional manner.