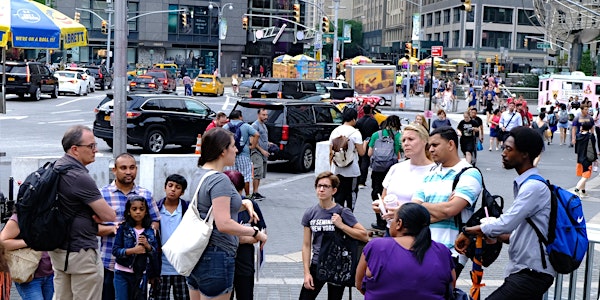 Informational Open House (via Zoom) – 2023 Programs
The open houses will be held online via Zoom. Link and password provided in an event email confirmation.
When and where
Location
City Seminary of New York 302 West 119th Street 3rd Flr New York, NY 10026
About this event
Come and hear about our 2023 non-degree programs - Ministry Fellows Program, Bible for Life, and Thriving in Ministry - and our MA Degree Program in Ministry in the Global City. These open houses will be held online via Zoom. Link and password provided in an event email confirmation.
Contact learning@cityseminaryny.org if you are interested in non-degree programming, or CSNYgradcenter@cityseminaryny.org for more information about the MA program.
Ministry Fellows Program**
Understand the city better, experience the broader church, get equipped for ministry, and become formed for leadership. Through experiential learning, dialogue and reflection, prayer, worship, and wrestling with Scripture, walk together with a diverse community of ministry leaders for a season. Formats are twice a month in person over 9 months with virtual check-ins in-between, or a 4-month weekly intensive. The next cohort will begin in Spring 2023.
Bible for Life**
Join us for a short course leading you through the entire Bible. Students will come to understand their place in the unfolding story of God's relationship with creation, from Genesis through Revelation.
Thriving in Ministry Initiative (for pastors)
Become part of a growing community of pastoral ministry and leadership practice across church traditions and networks in the metropolitan New York area. We host small groups for peer learning and support (5-session praxis groups or collaborative inquiry groups over 9 months), spiritual direction retreats, and an annual networking reunion. Groups form and run throughout the year. Attend an orientation to find out more.
**MA Degree Program in "Ministry in the Global City"
City Seminary's Master of Arts degree in Ministry in the Global City is a two-year 39 credit, part-time program that will help prepare you for a lifetime of ministry and leadership in the global city.  You will learn more about the urban world, Scripture and spiritual formation, faith and everyday life, and the church in our city and world, and more.  With the city as the classroom and the focus and background of every course, students will be prepared for the challenges of living and thinking theologically in a growing and changing, increasingly diverse world Christian church. Completion of the Ministry Fellows Program and the Bible for Life Course are prerequisites for admission. 
Open House Dates (via Zoom):
Thursday January 12, 2023, 12 PM - 1PM
Monday January 23, 2023, 1 PM - 2 PM
Thursday February 1, 2023, 12 PM - 1PM
Monday February 6, 2023, 1 PM - 2 PM
Thursday February 9, 2023, 12 PM - 1 PM
Monday March 6, 2023, 12 PM - 1 PM
Thursday March 23, 2023, 1 PM - 2 PM
Thursday April 13, 2023, 12 PM - 1 PM
Monday April 17, 2023, 1 PM - 2 PM